MSP added wide-format inkjet printing capability to its BlueSkyETO division. MSP is a full-service direct mail marketing company, offering printing, mailing, database development and management, along with tracking and reporting. From its inception in 1953, MSP has grown to become one of the most respected direct mail facilities in the country, mailing over 400 million pieces per year. Originally named Mailing Services of Pittsburgh, the company is known today as MSP and occupies a 150,000 square foot building in Freedom, PA.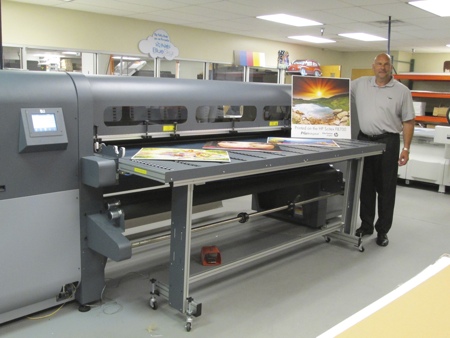 According to Luke Teboul, Vice President, Business Development of BlueSkyETO, "Our Company is committed to delivering marketing execution excellence for our customers, and a caring work environment for our employees. Our commitment to excellence has yielded long-term relationships in markets such as retail, non-profit, hospitality, financial services and insurance."
MSP believes that it is unique in their intelligent application of technology to streamline and automate workflows and processes to provide our customers with tangible benefits, such as efficiency, lead- time reduction and cost savings. "This principle applies across our direct mail platform, our print-on- demand facility and our marketing automation division, BlueSky ETO," said Luke Teboul, who is responsible for Digital Sales at MSP.
The best example of MSP's expertise in technology is BlueSkyETO, which develops sophisticated web-based marketing storefront solutions...Engineered to Order. These systems provide marketers, and their channels, with streamlined tools to communicate and enable them to efficiently order, customize and control marketing materials, while maintaining brand integrity - swiftly, cost effectively, and without waste. Branded templates, content management, cost control co-op management, and comprehensive reporting are the primary deliverables of BlueSkyETO.
"Our customers continue to request innovation matched with the highest quality print output, regardless of the printing process. Furthermore, they expect us to continually add services and solutions, so they can deal with MSP as a single-source provider," explained Doug Wright, Chief Operating Officer. That is why MSP can provide a full-array of other marketing items from personalized note pads through innovative personalized greeting cards using foil fusion technology.