Brazilian wide-format printer manufacturer AMPLA has signed a partnership agreement with renowned software provider Caldera which will see the latter's RIP solutions supplied with AMPLA machines as an OEM product. AMPLA will introduce the new software immediately in order to help both its new and existing users improve the quality and consistency of their output across AMPLA's range of wide-format printers.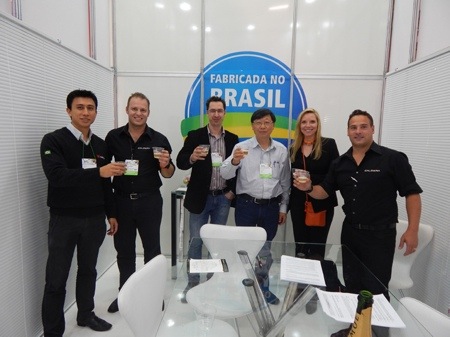 "Caldera is honored and proud to be associated with AMPLA products as we share the same values of innovation, quality and customer care," comments Joseph Mergui, chief executive, Caldera. "The choice of Caldera's solutions as AMPLA's preferred software is definitely a strong sign that AMPLA can gain international market exposure, as well as bring progress to its user base at home in Brazil. Caldera's powerful colour management engine, based on X-Rite i1Prism, the genuine Adobe PDF Print Engine (APPE) and our print cost calculation module (CostView) are all part of the OEM RIP solution delivered to AMPLA, among many other award-winning features."
"With this partnership we have taken another step forward to improve the digital printing options that we offer clients," adds Adriano Coelho, director of research, AMPLA. "Caldera's technology will give print houses using AMPLA technologies greater control over the printing process, plus the ability to achieve exceptional results in the production of visual communication, decoration and textile jobs."
AMPLA's users will not only benefit from Caldera's powerful RIP architecture driving their machines, but also a number of productivity and quality control tools. The CostView module enables real-time monitoring of both production costs and carbon emissions, to help businesses more proactively control ink and media usage, as well as providing environmental data. In addition, Caldera's integrated colour management solution will ensure consistent, accurate output from job to job and device to device.
The partnership with one of Brazil's leading wide-format printer manufacturers comes at an important time for Caldera as it expands its global customer base with moves into new markets, including Latin America. The agreement reinforces Caldera's decision to appoint a dedicated business development director for the region last year, and gives the company a foundation on which to build its presence and reputation in Brazil and surrounding countries.
AMPLA, which will celebrate ten years in the industry in 2014, manufactures solvent-based, UV-curable and dye-sublimation machines at its 8,000sq m facility in Pinhais, Curitiba. Its Targa, Rio and Samba models are developed with the aim of being the 'first option' for businesses in the Brazilian visual communications sector.