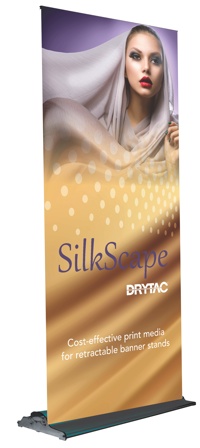 Richmond, VA - Drytac® has confirmed that SilkScapeTM, the latest product available in its digital print media line, is compatible with latex printers. A profile for the HP Designjet L26500 with Caldera rip software is available upon request. The banner material can also be used with solvent, eco-solvent and UV printers, making SilkScapeTM an excellent low cost solution for print providers.
SilkScapeTM is an 8 mil, 99% opaque white polypropylene film with a satin matte finish and single-sided print receptive coating. It provides outstanding image quality no matter which print technology is used. In addition, the material's edges are curl-resistant and do not fray, making it an ideal choice for use with the Drytac® line of retractable banner stands.
"SilkScapeTM has fantastic print quality and hangs nicely in the stand. It is a great option for customers who are looking for a cost-effective solution that acts like a higher-end product," said Nate Goodman, Drytac® Product Manager.
Available in 36-inch wide rolls, SilkScapeTM is in stock and ready for immediate shipment. To learn more, visit http://www.drytac.com/silkscapetm.html.