Paterson, NJ – The largest independent distributor of paper cutters and paper handling equipment in North America is planning to have something for nearly every occasion on hand when Print '13 convenes at McCormick Place in Chicago, September 8-12. Colter & Peterson (booth 3940) will introduce a brand new precision knife sheeter and will display a well-rounded group of cost-effective and various sized paper cutters, three knife trimmer, a jogger and a stack lift for commercial and digital printing applications.
The new 57-inch dual rotary knife precision sheeter is something to see. With an innovative, modular design and the latest technology with Siemens electronics, this fast, efficient and durable machine can cut up to 900 feet per minute with a +/- .010 inch cutoff accuracy. Highly productive, it develops 57-inch tall skids and offers slitter capacity.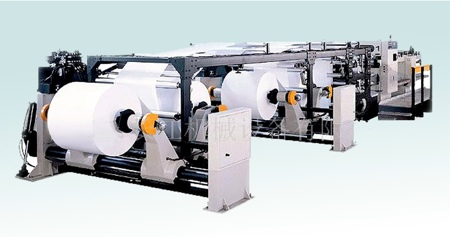 The Accutrim HD1680 three knife trimmer is a highly efficient and flexible machine that is computer controlled and allows for one-man operation. Built to accommodate a wide variety of book dimensions for quiet and accurate trimming, it delivers a 5-degree swing angle that extends the lifecycle of the knife. In addition to quick knife adjustment, this user-friendly trimmer provides fast set-up with minor format changes completed in less than one minute, and complete format changes in under three minutes.
The widely successful Saber® brand line of paper cutters will be represented with in-booth demonstration of the new 45-inch SaberX15. A heavy duty machine manufactured to ISO-9001 standards with cutting edge technology, this robust cutter offers automatic knife adjustment, Microcut 15-inch touch screen controls and many other outstanding features.
C&P will also put the spotlight on its signature Prism PC® 27-inch, as well as its standard Prism 30-inch and 45-inch paper cutters. A perfect solution for digital and variable data printing situations, these cutters have earned their reputation for outstanding reliability. State-of-the-art technology starts with the time-saving Microcut computer control system, which automates the ability for the user to store cutting sequences so the back gauge automatically positions itself for each individual cut. Programs can be uploaded from a network or with a USB device using CIP 3/4 files. No additional hardware or software is necessary.