Antilope, Highcon and Plantin Show off Antilope's Highcon Euclid
Lier, Belgium - Members of the press from the Benelux gathered at Antilope's new Packaging Centre in Lier, Belgium today to herald the installation of the Highcon™ Euclid in its new home.
During the course of the afternoon, visitors were treated to a live demonstration of the Highcon Euclid digital cutting and creasing solution. Packages representing a theatre, a theme used also in the invitations to the event, were specially designed by Antilope, printed on Trucard 2 matt 350 g/m² on a KBA Rapida 105ZF-6+L offset press and delivered to the Highcon Euclid in DXF format from the Esko ArtiosCAD software to produce high quality products within minutes.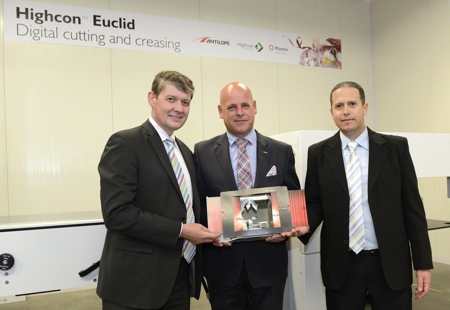 Hans Huyghe, Managing Director, Plantin-Tetterode (L), Marc Binnemans, CEO Antilope Printing and Aviv Ratzman, CEO and Co-Founder Highcon (R) with the theatre, digitally cut and creased by the Highcon Euclid
Linda Corremans, CEO, Antilope Cardboard: "We are very excited about our new recruit, and are eagerly looking forward to customer reactions to the new capabilities we can now offer. It has been 6 months since we first saw the Euclid at the Plantin demo centre and here it is, centre stage at Antilope. We hope everyone enjoyed the performance".
Aviv Ratzman, CEO, Highcon: "Needless to say, we are gratified to see the first commercial installation of the Highcon Euclid here in Antilope. We look forward to seeing some amazing results from Antilope's forward-thinking packaging team together with the creative capabilities of the Highcon Euclid."
Hans Huyghe, Managing Director, Plantin-Tetterode Benelux: "We are happy to see this positive result of our decision to work with Highcon to market, sell and support this game-changing new product. We have witnessed a surge of interest in the digital technology. By adopting this digitization of the last step of the packaging process, Antilope has confirmed our understanding of the changing needs of the packaging market."
The award winning Highcon Euclid is the first fully digital cutting and creasing machine for folding carton converting and offers users savings of time and money by eliminating the die-making process. The Euclid incorporates Highcon's patent-pending 'DART' (Digital Adhesive Rule Technology) to produce creases and high-speed laser optics to cut sheets up to 760mm X 1060mm (30" X 42"), that have been produced by any printing process.
Streamlining the finishing process offers carton converters the ability to meet demands for medium and short-run jobs cost-effectively with faster speed to market, enabling job change flexibility and faster reaction times to changing customer requirements.