LONDON – EFI™, a world leader in customer-focused digital printing innovation, today announced the world wide availability of the EFI VUTEk® HS100 Pro UV inkjet press. The high-end VUTEk HS100 Pro model not only offers fast production speeds, it provides the distinct competitive advantage of higher-quality imaging with EFI Pin & Cure – a unique technology that enables precise ink lay-down – and variable-dot grayscale imaging.
With these benefits, printing companies gain the productivity of screen printing with image quality that approaches offset, a combination that opens the door to new business opportunities.
"In this market, printing firms have had to choose between higher quality or higher productivity, but could not get both in a single machine. We have addressed those issues, taking print quality and productivity to a higher level and combining those benefits in the VUTEk HS100 Pro," said Scott Schinlever, senior vice president and general manager of EFI's Inkjet Solutions. "Printing firms no longer have to settle for just going faster; they can have the throughput and high-end imaging they need to make digital the preferred option in an analogue-dominated market for display signage and other applications."
Printing at speeds up to 100 boards per hour, or 70 boards per hour in P-O-P mode, the 3.2-meter VUTEk HS100 Pro accelerates the industry's shift from prep-intensive, analog screen print and large-format offset to efficient, versatile UV inkjet digital printing. Customers can also reduce turnaround times on their existing inkjet work.
The first VUTEk HS100 Pro installations deliver on these promises in ways previous technologies do not, transforming printing firms' approach to digital printing.
"This new press is exceptionally fast," according to the world's first VUTEk HS100 Pro user, Nick Olson, co-owner of PVS In-Store Graphics in Portland, Ore. "For example, we had a three-day job for our VUTEk GS3200 printer that was printed in less than one day on the HS100 Pro."
In addition to the installation at PVS, initial press sales include:
An April 2013 installation at Dublin, Calif., firm AMP Printing, which purchased the VUTEk HS100 Pro press on display at the ISA International Sign Expo – part of a dynamic overhaul at the company that also included a significant offset press investment.
A May 2013 HS100 Pro installation at another leading Northern California firm, Hayward, Calif.-based Quad Express Printing.
A May 2013 installation at Rockford, Ill., screen printing firm Interstate Graphics, which added the HS100 Pro to offer more-efficient versioning and less waste while transferring analogue-printed work to digital production.
The first European HS100 Pro installation at Wiehl, Germany-based advertising production firm WTO, a company that also operates Europe's first EFI Jetrion 4900 digital label press.
"At WTO, we have optimally integrated the new HS100 Pro printer into our pressroom and, with EFI print and workflow systems, created award-winning printing solutions," said WTO Managing Partner Sascha Rothstein.
EFI is in the midst of completing additional VUTEk HS100 Pro installations in Europe and the United States, and also has several units scheduled for delivery later this year.
Leading-edge quality and versatility
Quality is a top priority with the VUTEk HS100 Pro, making it an ideal production device for higher-margin close-viewing applications as well as traditional, large-format display graphics work.
VUTEk HS100 Pro users also benefit from the press's exceptional versatility in substrates, thanks to a robust and accurate media handling system that handles both roll and rigid materials such as styrene, fluted poly propylene, card stock, foam core and corrugated board. Customers are also successfully printing with a number of unique substrates, including aluminum composite materials, and recycled-content boards used in printing, packaging and construction applications.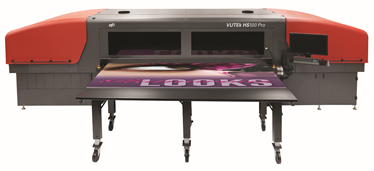 The newest-version EFI Fiery® digital front end gives VUTEk HS100 Pro users streamlined file preparation as well as reliable color management and preflighting. Fiery also fosters a seamless connection to EFI's industry-leading suite of MIS and ERP software products for a complete workflow infrastructure that PSPs can use to manage all their jobs, from file submission to final shipping and invoicing.
EFI is featuring the VUTEk HS100 Pro in its exhibit at the FESPA 2013 tradeshow this week in London, in stand B5S. It will also be a highlight of EFI's exhibit at several upcoming industry tradeshows, including the Shanghai International Ad & Sign Expo (booth W1-125), PRINT 2013 (booth 2602) and the SGIA Expo (booth 2601).
For more information about the VUTEk HS100 Pro and other VUTEk superwide printers, visit www.efi.com or contact 800-875-7117.