LONDON - EFI™ has extended its range of versatile options for the wide-format market with the introduction of its thermoforming digital UV-curable ink, enabling signmakers and printing companies to print direct onto thermoplastic sheet materials, which can then be formed into deep draw, high elongation parts with excellent retention of hue and opacity. Formulated for use in the EFI VUTEk® GS2000 Pro-TF and the VUTEk GS3250 Pro-TF, pre-decorating with this new ink eliminates former labor-intensive, costly methods such as hand airbrushing used when working with shaped and irregular surfaces.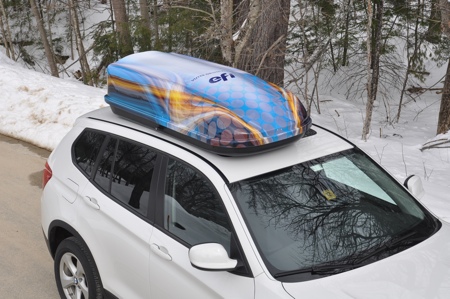 EFI's VUTEk GS-TF thermoforming ink's elongation capabilities are enhanced by its high opacity on a broad selection of materials, including PETG, acrylics, polycarbonates, polystyrenes and PVC, plus derivatives and mixes. This makes it ideal for applications including custom-formed signs, packaging, point-of-purchase displays, vending panels, automotive and recreational vehicles, consumer and promotional products, and many more. The extended color gamut is complemented by its ability to withstand heat forming, cutting and routing without cracking, chipping or losing adhesion, with moisture resistance and a durable life resulting in long-lasting graphics.
These new inks are designed to remove the limitations of working with thermoformed applications, opening new routes to productivity for businesses wanting to generate revenues and gain a competitive advantage from high impact signs and graphics. Designed to be used with EFI's 3.2-meter VUTEk GS3250 Pro-TF and 2-meter VUTEk GS2000 Pro-TF, finished graphics benefit from the eight-color plus white ink-set and variable dot grayscale print capabilities resulting in outstanding image quality and strong, accurate colors.
"EFI's introduction of thermoformable UV-curable inks, and the machines in which to use them, offers printers new opportunities for bringing digital printing's strengths to a broad range of innovative applications," said Barney Cox, printing industry consultant. "This means that printers can offer customers high impact, short run, versioned and customized imagery that has an added dimension, appealing to the increased desire for personalized products."
For additional information about EFI, visit www.efi.com or call 800-875-7117.