ROLLING MEADOWS, Ill. — Foremost Communications has become the first printing company in North America to install Screen's new Truepress JetSX sheetfed inkjet press. The $16 million provider of media communications and marketing services has forecast significant growth in one-to-one solutions, targeted direct marketing and personalized packaging as the result of the investment.
A full-color, duplex variable printing system, the Truepress JetSX narrows the gap between digital and offset print production, offering real advantages for customers. It meets the demand for applications requiring the B2 format that the current crop of toner devices cannot handle while cost-effectively printing quantities up to about 3,000 copies compared with sheetfed offset.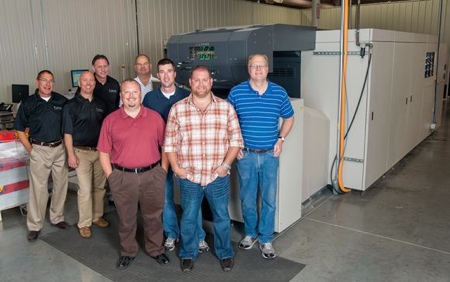 Back row (left to right): Mark Oosting, Tim Karel, Paul Kelly and Merlin Buhl make up the ownership group at Foremost Communications in Grand Rapids, Mich. Front row (left to right): Brian VanderHooning, chief operating officer; Kyle Keitzman, lead digital specialist; Greg Gibson, digital specialist; and Jim Fongers, digital specialist.
Diversification is the key to Foremost Communications' fortunes. The company has 95 employees and five separate divisions at an 85,000-square-foot printing plant in Grand Rapids, Mich. The sheetfed offset, flexographic, digital, mailing and fulfillment divisions deliver turnkey services from file preparation to mailing for the simplest one-color to the most critical six?color print projects.
Leading the offset lineup are six-color Komori presses (a 28-inch and a 40-inch model, both with inline aqueous coating) and a two-color, 40-inch Heidelberg perfector. These machines share the production floor with small-size sheetfed presses. Foremost Communications operates eight-color flexo equipment with inline die-cutting capabilities for high-end packaging projects. The company's digital division offers wide-format inkjet and eco-solvent technologies, as well as small-format toner-based printing.
"Strategic investments have helped make us a technology leader in almost every one of our divisions," the ownership group said. "We also have very much embraced the marketing technologies that are available to become a leader in that part of the industry."
Foremost Communications had followed the development of sheetfed inkjet printing since its rollout in the market. Understanding that it represented technology for the future, the company spent two years identifying a system that could satisfy specific needs. There wasn't one particular attribute that ultimately tipped the scale in the Truepress JetSX's favor. In fact, there were three.
"We had three main criteria: being able to handle up to 24-point board, accommodate 100-percent variable data documents and print both sides of the substrate without having to manually flip the load," the ownership group said. "We felt the competing equipment could not fulfill all three criteria. We are privileged to partner with Screen and have the first Truepress JetSX installed in the United States."
The Truepress JetSX employs water-based pigment inks. It features a minimum droplet size of 2 picoliters and can output at 1,440 x 1,440 dpi with a maximum sheet size of 20.8 x 29.1 inches. It prints on coated and uncoated cut sheets, including any gloss or matte standard stock, with no need for a precoating stage. A postcoat unit applies a spot coat to protect image areas. An infrared drying unit dries the sheets before delivery, allowing sheets to go immediately to postpress.
In production since February 2013, the Truepress JetSX is taking over short-run color work previously printed on Foremost Communications' half-size Komori press.
"Static document runs up to 3,000 sheets of full-size paper are cost-effective on this new digital press, depending upon the piece," said Brian VanderHooning, chief operating officer. "The cost savings in plating and makeready tasks increase our profitability."
Also, Foremost Communications has migrated a portion of its toner volume to the Truepress JetSX to capitalize on the larger sheet size.
"The Truepress JetSX allows us more capabilities to print longer runs of variable data booklets, postcards, brochures and mailers," VanderHooning said. "It produces better yields and higher profit margins."
One game-changing feature of the press is its ability to print on prescored and creased paper package materials, coated board and cardboard up to 24-point. Short-run and personalized folding cartons can be produced efficiently and competitively without the requirement to source a die and then set up cutting and creasing in a separate stage. A traceability function utilizing serial numbers or control barcodes offers a variety of added-value applications.
"The Truepress JetSX opens up opportunities in short-run custom packaging," VanderHooning said. "This device lends itself to test market packaging. Several clients are interested in short-run boxes. We are looking at personalized packaging and personalized pocket folders. With variable data, every sheet can be different."
As for print quality, VanderHooning is unreserved in his praise.
"Our first live job on the Truepress JetSX was a short-run, customized pocket folder for a resort in Michigan," he said. "Sheets were printed with a solid green color. Other digital presses would have had trouble maintaining color consistency across the sheets. The resort's management group was impressed with the output. The color quality that closely matches offset and data-driven technology enabling 100-percent personalization make this solution unique."
For more information about the Screen Truepress JetSX, please visit www.screenusa.com.