New Ink Set Handles Food, Pharmaceutical, Other Difficult Package Printing Apps
ROCHESTER, N.Y. – Durst, a leading manufacturer of industrial digital printing platforms, announced today that it has successfully completed testing of its new Durst Tau Low-Migration (LM) UV Inks from SunJet, a division of Sun Chemical.
Durst Tau LM inks are designed for use with the 13-inch Durst Tau 330 UV Inkjet Digital Label Press, which has a production speed of 157 linear feet per minute. The new ink set will expand the range of short-run applications that can be printed on the Tau 330 – including previously off-limits applications such as pharmaceutical blister packs, yogurt carton lids and similar sensitive print jobs.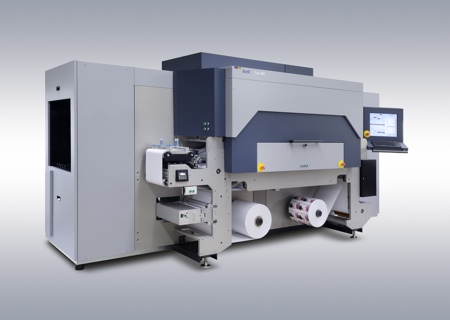 A fully functioning Durst Tau 330 label press with LM inks will be on display in the Durst booth – #9H57 – at Label Expo '13, September 24-27 in Brussels, Belgium.
A migration risk can exist when printed inks are in close proximity to packaged food or other sensitive substances, and where there is no functional barrier between the packaging and the contents. When combined with Durst's proprietary UV curing system, Durst Tau LM inks can achieve migration limits under 10 parts per billion (ppb) – a critical threshold in ensuring that packaging complies with relevant food contact legislation.
These inks appear on the EuPIA and Swiss Ordnance positive lists, and do not utilize material specifically excluded on the Nestle list.
"Our new Tau Low-Migration UV Ink Set is not only a significant achievement in its own right, but it further demonstrates Durst's ability to deliver complete printing solutions," said Christopher Howard, Senior Vice President of Sales & Marketing for Durst U.S. "When used in our Tau 330 UV Inkjet Digital Label Press, these inks deliver quality results for one of the more challenging, specialized printing requirements."
The Durst Tau 330, designed for short- and medium-run narrow web applications, covers print widths up to 13 inches at print speeds of up to 157 linear ft./min. Production capacity can reach 10,220 sf./hr. Sharp, precise, "best in class" image quality for today's most demanding jobs is made possible thanks to Durst's proprietary, single-pass UV inkjet technology featuring Xaar 1001 print heads. This technology delivers an apparent print resolution more than 1,000 dpi.
Cost-effective operation and high profitability are the result of the Tau 330's use of affordable inks, its ability to print on standard as well as specialty label substrates, and its solid construction that enables reliable 24/7 operation. Built-in maintenance functions like automated print head cleaning help to increase performance and hold down time to a minimum.