The Wrap Cup Masters Series speeds into London for the grand final at FESPA 2013, 25-29 June 2013 at the ExCeL London exhibition centre.
The adrenaline fuelled competition showcases the skill and creativity of vehicle wrappers and is designed to recognise and promote the global vehicle wrapping community at their best and illustrate how vehicle decoration can be an effective tool in the marketing mix.
The Wrap Cup Series was launched at FESPA 2010, Munich and has since enjoyed pit stops at FESPA Americas 2011, FESPA Mexico 2011 and 2012, FESPA Digital 2011, Digital 2012 and FESPA Brasil 2013, picking up finalists along the way. At FESPA 2013 the Wrap Cup Series sees its grand final take place where the 16 finalists will battle it out to be crowned the Wrap Cup Masters Champion.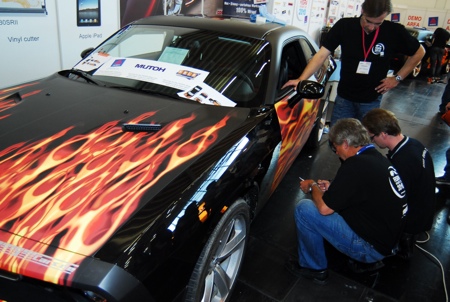 The three day crowd magnet is sure to be one of the show's most animated and exciting features. Taking place on stand S90S, visitors can watch vehicle wrapping superstars battle it out through several rounds to hold the coveted title – The Wrap Cup Master. Day one will see the final qualifying heat, where three lucky vehicle wrappers will get the chance to compete in the grand final. The remaining two days (28th – 29th June) will host knock out events and the overall Wrap Cup Masters Champion will be announced on Saturday 29th June 2013. The final round will take place between 13:30 – 15:00 and the official prize giving where the winner will take home €15,000 worth of prizes will take place at 15:30 on the Wrap Cup stand.
On days two and three of FESPA 2013 the competition shifts up a gear and the Cup of Nations - the world cup of vehicle wrapping – takes over. This highly anticipated competition event will see national teams compete against each other to become the best vehicle wrapping country in the world and for their chance to win prizes to the value of €9,000.
Duncan MacOwan, Head of Events and New Media comments: "Over the last three years the Wrap Cup Masters Series has built momentum leading up to the grand final at FESPA 2013. To celebrate the fact FESPA 2013 is in London, we've chosen the Mini Cooper as the car of choice. The FESPA Wrap Cup Series has proved extremely successful attracting high volumes of visitors to the stand. Adding the Cup of Nations to this year's line-up will also add an extra dimension to the feature, where visitors and exhibitors can come and cheer on their country."
The final qualifying round on day one is full. However, if you're interested in entering a team for FESPA's Cup of Nations please visit http://www.fespa.com/wrapcup/ for more information.
For more information on FESPA 2013 and to register for free entry, please visit: www.fespa.com/london.