C.G.S. (Thailand) Co., Ltd. appointed as sales and service agent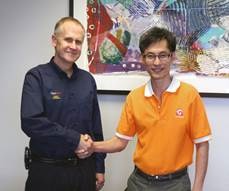 Sussex, Wisconsin, USA – QuadTech, Inc., worldwide leader in press control technology including color measurement, register, inspection, and data management products, has increased its commitment to packaging printers in Thailand by adding C.G.S. (Thailand) Co., Ltd. to its worldwide network of sales and service operations.
C.G.S. (Thailand) has more than 15 years of experience in the printing and packaging industry. Managing Director Noppadol Krairiksh comments: "QuadTech's industry-leading technology is an exciting addition to our wide range of product and service offerings. Currently we offer package design, prepress software and equipment (Esko), quality control products (viscosity control from Norcross), color matching systems (X-Rite, IGT and easy Doser), printing materials (Flint Group, Huber Group, Praxair), packing machinery and robotic palletization equipment."
According to Randy Freeman, QuadTech Vice President and General Manager of Packaging, "Our packaging customers in Thailand will benefit from faster response, closer access in their own time zone, and local expertise. C.G.S. (Thailand) has a solid reputation for providing not only the best printing technology, but the expertise and training needed to make printers successful."
Mr. Krairiksh adds, "Working with QuadTech, we can provide product knowledge and customized solutions before customers make a purchase decision, and local support after installation. Both C.G.S. (Thailand) and QuadTech believe strongly in making long-term commitments to our customers' success."
C.G.S. will represent QuadTech at the upcoming Pack Print International trade show in Bankok, Thailand on August 28-31, at stand K25.
Photo: Randy Freeman, QuadTech Vice President and General Manager of Packaging (left) and Noppadol Krairiksh, Managing Director of C.G.S. Thailand