Letterpress prints for sale now, 100% of proceeds to be donated to Architecture for Humanity #RebuildMoore
Alpharetta, GA – Neenah Paper hopes to help stimulate a boost in giving to help rebuild tornado-ravaged Moore, Okla. with the sale of a powerfully simple, limited edition run of graphic letterpress prints. One hundred percent of the proceeds will be donated to Architecture for Humanity to help rebuild the City of Moore. The prints are available now for $10 at The Beauty of Letterpress, (http://thebeautyofletterpress.com).
Neenah Paper commissioned Ghost, an Oklahoma-based design and advertising firm to create something extraordinary in response to the tragic events in Moore," said Tom Wright, senior director of advertising and design for Neenah Paper. "We wanted to do something in remembrance of all that was lost, and to serve as a future reminder of people coming together to help. Americans have already donated millions to charities to provide much-needed relief to Moore, and now we hope to redirect and to raise monies to help them look forward and rebuild."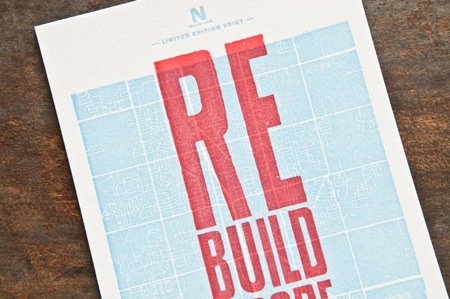 Ghost principal Brian Barnes, who grew up in Moore, and graduated from Westmoore High School in 1990, said his team was eager to participate, "In our local design community, I think we all felt this need to do something. There has been an incredible outpouring of designers donating their time and talents to help with the relief efforts. This tragedy is an event that reminds us of how closely we're all connected. This project was our opportunity to help."
The letterpress print features a map of the City of Moore with focus on the sections of the city that were among those most devastated by the storm. Letterpress printing, enjoying a renaissance because of its extraordinary beauty and tactility, visually begs to be touched, "In a way, that's a metaphor for how we hope people will see this project," said Wright, "as a touching tribute to Moore—to empower, invest, repair and sustain – enabling anyone to touch this community directly, and also receive a remembrance of Moore's resilience in the face of crisis." The limited edition print was printed by Two Paperdolls and features CRANE'S LETTRA® Papers, which are marketed and sold by Neenah Paper.
The proceeds from the sale of each print will be donated directly to the Architecture for Humanity. Its Disaster Reconstruction & Resiliency studio works to bring lasting solutions to communities affected by disaster. "They have teams on the ground now to help every step of the way as Moore begins the long task of rebuilding," noted Wright.
The Beauty of Letterpress, where the prints may be purchased, launched last quarter with an initiative to help raise $30,000 for the Hamilton Wood Type & Printing Museum through the sale of limited edition prints. They are already more than halfway to the stated goal.