Chicago, IL - GPA created their latest interactive promotion to demonstrate how a unique substrate can add value and excitement to a classic end use application. This promotional postcard was designed to advertise anarboretum exhibit and was printed on pressure sensitive tag stock. The butterfly shape within the imagery was then kiss-cut to allow the target recipients to peel the sticker off and use it as a decoration. This turned what would have been an ordinary postcard into something fun and interactive, allowing it to make more of an impact and creating a reminder that would likely be retained. The piece was printed on GPA's Ultra Digital® 8 pt. White C1S Tag, which offers high facestock strength and stiffness, and also superior performance in finishing.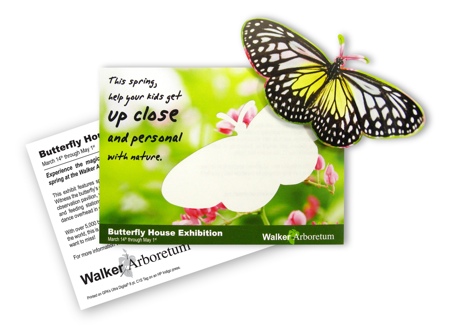 This material is popular for a variety of applications and markets. In retail, it is ideal for promotional tags, POP displays and signage. In the consumer goods market, it is popular for scrapbooking and children's stickers, as well as toy and game packaging, and beyond. It is also used in the entertainment industry for band, concert and movie promotions.
The thick facestock of Ultra Digital 8 pt. White C1S Tag is compatible with a variety of finishing processes, including die cutting, scoring, folding and perforating. It also offers exceptional ink adhesion, consistent print performance and crisp image clarity, making it versatile for a variety of uses. This application represents one segment of GPA's expansive range of pressure sensitive papers available in a variety of facestocks, adhesive and liner combinations for offset and digital presses to compliment virtually any application.
For more information or to receive a sample of this application, call GPA Customer Support at 800-395-9000 or visit www.askgpa.com.