Internationally renowned wide-format software developer Caldera is preparing to launch a raft of new and updated products at FESPA 2013, taking place at the ExCel exhibition center in London, UK, from June 25th to 29th. Among the highlights on Caldera's stand will be a brand new web-to-print solution dedicated to wide-format PSPs, specialist textile printing software and the latest versions of its award-winning RIP software, v9.20, and workflow system Flow+ 2.0.
"Since our last major launches, we have been gathering feedback from our customers about our products, and while we have been delighted with the overwhelmingly positive response, we know we can always do more," says Sebastien Hanssens, Vice-President of Marketing, Caldera. "The eyes of the world will be on FESPA 2013, so it is the perfect opportunity to demonstrate how listening to Caldera users drives us to keep improving our offering. Everything we are launching is as a direct result of finding out what our customers really need to keep their businesses a step ahead of the competition."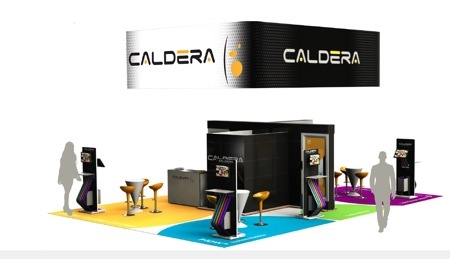 To complement its new products at FESPA, Caldera will produce a magazine, Gamut, which will include informative, original articles written by industry experts. With educational and inspiring articles exploring key topics of interest for wide-format houses, plus customer case studies, visitors will understand how products from Caldera and its partners can help them take advantage of any new direction they choose for their business.
One of the most exciting new products from Caldera is WebShop, a standalone web-to-print solution that has been developed to specifically meet the needs of wide-format print houses. Incorporating features such as a Variable Size Product listing, designed exclusively to sell wide-format print by number of items or total printed area, and able to integrate directly with the Caldera RIP and Flow+, WebShop is an ideal opportunity for PSPs to reap the benefits of selling online.
VisualTEX+ has been created to help wide-format houses enter the lucrative textile printing market. Based on Caldera's established RIP architecture, VisualTEX+ additionally boasts special tools for tiling pattern repeats, creating multiple colorways, colorbooks and creating custom inksets. With demand for bespoke printed textiles for interiors and new wallpaper-type applications on the rise, VisualTEX+ allows PSPs to apply their existing skills to take advantage of this new market.
Following the release of v9.10 of Caldera's flagship RIP package last year, v9.20 contains even more customer-requested improvements. Among the new features is a True Shape Nesting tool aimed at print-and-cut workflow users, which helps save ink and media by eliminating any need to print beyond the cut contours and more efficient nesting according to the external outline of each individual element to be printed and cut.
A new preflight tool will be available as part of Caldera's v9.20 VisualRIP+ and GrandRIP+ products as well as WebShop and Flow+. Utilising Callas technology, the preflight feature is able to check each PDF against ISO standards at various stages of the workflow.
Flow+ 2.0 boasts a sleek, ergonomic new user interface that is better organized and customizable with shortcuts. The cost management feature previewed in v1.6 has been extended to improve production costing and with the addition of new reporting options. Other updates include a new calendar function, drag-and-drop job management, improved RIP interaction and the ability to create quote templates, manage jobs in several parts and add QR codes to quotes, orders, jobs and stock elements.
As well as these new offerings, FESPA visitors will also have the chance to see Caldera's innovative Variable Display digital signage solution in action [with production monitoring plug-in PrintBoard]. The Caldera team will be on hand to explain how Variable Display can easily be provided as an additional product by wide-format PSPs and sign-makers, as well as promoting efficiency in their own businesses using PrintBoard.
"With these new and improved products, we are putting Caldera at the forefront of wide-format digital production software," says Joseph Mergui, Chief Executive Officer, Caldera. "FESPA 2013 is a major event for us, especially with our recent push into more global markets such as South America and Asia, and we will demonstrate on this world stage that we are committed to creating market-leading solutions. Now our customers, both current and prospective, will know that Caldera is behind them from making the sale to the final delivery."