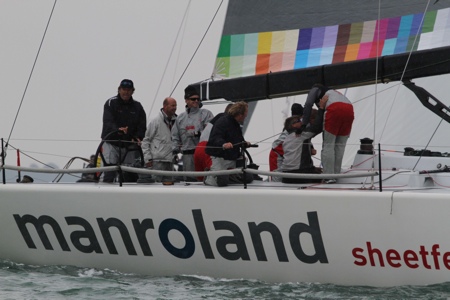 Day 1 - 17 May 2013, Cowes, UK. With up to four frenetic races there was plenty of action for the 56 competitors taking part in today's opening round of the 2013 Musto Vice Admiral's Cup being hosted by the Royal Corinthian Yacht Club, Cowes.The three-day event features seven classes, ranging from the SB20s at one end of the spectrum, all the way to the TP52s at the other.Class 0, for the 50- 52 footers, was an all TP52 affair and Tony Langley's manroland sheetfed (aka Weapon of Choice), Sir Keith Mills' 5 West and Johnny Vincent's Pace enjoyed fantastic racing with each boat claiming a victory.Weapon of Choice was the only boat to claim two wins, in races one and two, and as a result now leads the class by a single point from 5 West.Pace claimed race three and 5 West race four, but overall 5 West takes second with Pace a single point behind in third.
Day 2 - 18 May 2013, Cowes, UK. Class 0 may comprise just three TP52s but that's no bar to great competition with the three boats rounding every mark within seconds.Although Sir Keith Mills' 5 West took first blood in race five followed by a pair of seconds, it was Tony Langley's Weapon of Choice that claimed boat of the day for the second day running, winning races six and seven and finishing second in race five, giving them a two point overall margin on 5 West.Johnny Vincent's Pace was hard on the leading pairs heels all day but simply couldn't break through so goes into the final day five points adrift in third overall.
Day 3 - 19 May 2013, Cowes, UK - Tony Langley's Weapon of Choice continued to dominate the TP52s of Class 0, scoring two further wins to take the series by a five-point margin. Sir Keith Mills 5 West and Johnny Vincent's Pace traded places through the day with each boat claiming a second and a third place but it was 5 West who took the second podium step with Pace five points behind her. After racing double Olympic Silver Medallist and Abu Dhabi Ocean Racing Volvo Race skipper Ian Walker, who was guest staring as tactician aboard Weapon of Choice, was full of praise for his crew's teamwork and expertise and also paid tribute the race committee saying "They did a good job to get the racing in, particular in today's conditions. It was a great regatta with some really close racing."
manroland sheetfed will next be competing at the world famous "Cowes Week' in August, after which the boat will be shipped to Sydney, Australia to challenge for the Southern Cross Cup.