MENTOR, Ohio - Avery Dennison's Graphics Solutions business announced a new partnership with West Coast Customs (WCC) today, through which all graphics or car wraps created during the 2013 season of "West Coast Customs," the new Fox Sports television series, will feature top-of-the-line Avery Dennison vehicle wrap films and overlaminates.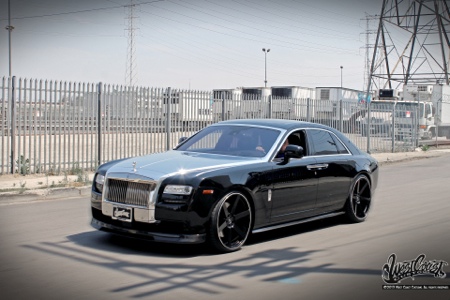 West Coast Customs founder Ryan Friedlinghaus had the hood of his Rolls Royce Ghost wrapped with Avery Dennison(R) Conform Chrome Accent Film.
"Our customizers are looking forward to getting creative with Avery Dennison® Supreme Wrapping Films and digitally-printable films for each show's project," said WCC presidentAmy Boylan. "We're impressed with all of the options available in the Supreme Wrapping Film product line, especially the wide range of colors. Our viewers are looking for new options they can use to customize their vehicles or motorcycles, and Avery Dennison wrap films certainly offer many dynamic options."
"Color change and vehicle wraps are growing in popularity, and our partnership with West Coast Customs is a great opportunity to reach out to customizers, restylers and consumers," said Meghan Lagoni, marketing manager, Avery Dennison Graphics Solutions. "This year, millions of viewers will see how vinyl film can be used to transform and personalize a vehicle. We can't wait to see what the West Coast Customs team will create with Avery Dennison wrap films."
WCC, started in 1993 by Ryan Friedlinghaus as a custom vehicle styling company, has grown into a well-known lifestyle brand. In each episode, viewers get an exclusive look into the world of the famed car customizing business with Ryan Friedlinghaus and his team transforming ordinary vehicles into one-of-a-kind rides.
West Coast Customs will air on Sunday nights at 5 p.m. (EDT) on Fox Sports beginning June 9. Avery Dennison® digital products, including MPI 2611 Wall Film, were used to create new graphics for the set's floor and walls.
Avery Dennison® MPI 1005 Supercast Easy Apply RS™ is a digitally printable film that is valued by graphics and car wrap installers because it is repositionable and slideable, making application easy. Colors pop on Avery Dennison's digital films to create dynamic personalized designs for car wraps.
A key advantage of a wrap is that it can easily be removed if an individual decides to change the color or graphics. The original paint on the vehicle will look virtually the same as the day the wrap was installed. A car wrap can also be more affordable than a custom paint job and easier to maintain.
Avery Dennison® Supreme Wrapping Films are popular with car enthusiasts for color change wraps and accents. Available in 49 colors including carbon fiber, gloss and matte finishes and brushed metallic colors, Supreme Wrapping Films can be mixed and matched to create full or partial wraps with a finish similar to paint for cars, trucks or motorcycles. Avery Dennison® Conform Chrome Accent Film is ideal for unique features such as side-view mirrors, striping and door handles.
Avery Dennison connects consumers and small businesses with car wrap installers through CarWraps.net, an easy-to-use website that makes it convenient to get information on personalizing or branding a car with vinyl wrap materials. Consumers can learn about color wrap options as well as locate a pre-screened and certified installer near them and request a quotation on a vehicle wrap.