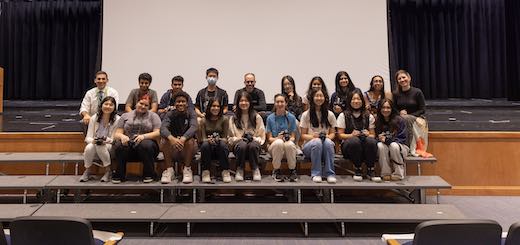 Training session for Canon-provided cameras helps students at Jericho High School prepare for the program set for late June
MELVILLE, N.Y. – Select students at Jericho High School are preparing to take part in the 2023 Future Authors Project, a writing workshop supported by Canon Solutions America, Inc., a wholly owned subsidiary of Canon U.S.A., Inc.
The Future Authors Project, which launched in the Jericho School District in 2017, is an annual program that provides high school students an inside look into the writing process from idea conception, drafting, and editing through to publication.
To assist students to prepare for the program, set for June 26-29, a camera tutorial was conducted by Canon on June 7 at the school. To help students understand the photography aspect of the book-making process, Drew MacCallum, Canon's senior manager of product planning, gave a detailed presentation on the basics of using the Canon-provided Rebel SL2 for all students in attendance.
The goal of the workshop is to sharpen writing, editing, and storytelling skills. The Future Authors Project will culminate with a published book focused around a theme (the 2022 title was "With Every Letter Comes a Story") as students will use their developing photography skills to capture vivid images to accompany their written work.
"The students were very receptive to the training and we are looking forward to seeing how their developing skills as authors and photographers can help them tell great stories as part of the Future Authors Project," MacCallum said.
When published in the fall, an official book launch will be held, where students will sign copies of published books printed on Canon production print technology.