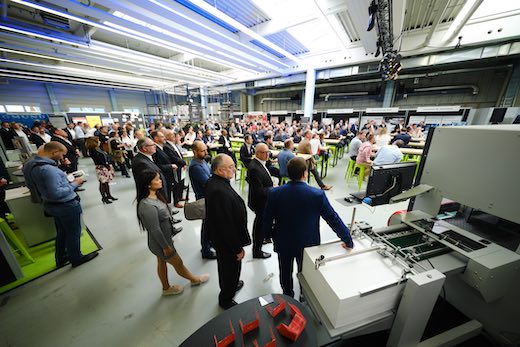 New technology campus with state-of-the-art LED lab the focus of UV in-house exhibition
IST METZ: The world's largest in-house exhibition for UV, LED and excimer technology is going into the next round: from July 4 - 6, 2023, the headquarters of organizer and world market leader IST METZ in Nürtingen in southern Germany will become the center of the printing industry for the 11th time.
Whether it's a tour of the LED lab including production, a visit to the production subsidiaries at the site, or live demonstrations of matting using excimer technologies and smart repair applications of the mobile HANDcure - organizer IST METZ has once again set itself the goal of offering real added value for the industry by means of a diverse program, clever lectures, expert panels, live demonstrations, and renowned cooperation partners, including the AFBW, VDMA, Print City Allianz, DFTA, f:mp, and 40 top-class exhibitors.

Campus character: discover your opportunities
Every day at 10 a.m., the gates of the UV will open, after which visitors will be able to organize their own day on the Campus according to their own interests. The heart of the new campus at the IST METZ headquarters is the state-of-the-art research and development laboratory. The so-called UV Technology Campus combines application, process and product development in one place. The campus is complemented by the so-called LEDLab. In the new competence center, a team of technology experts is researching and developing the next generation of high-performance and sustainable UV LED systems.

The programme also includes lectures and presentations on the latest trends in sheetfed, label and metal decorating, as well as UV, LED and excimer technology in printed electronics or wood applications, LED in newspaper printing, water and air sterilization using UVC, sustainable production and recycling, and de-inking.

A print product developed together with the PrintCity Alliance for UV Days 2023 will be presented, combining all facets and strengths of UV technology along the entire production chain.
Registration, program and partners at: www.uvdays.com