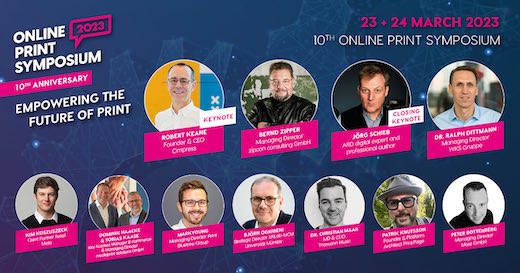 Speakers and partners confirmed - all start-ups announced - Networking at two evening events - Last chance for tickets
Munich–The time will soon come: the Online Print Symposium will take place on 23 and 24 March 2023. On these days, the Science Congress Center Munich will become the place-to-be for online print. For 10 years now, the Online Print Symposium has been an integral part of the industry and a must for all those who want to keep their finger on the pulse. A two-day programme with top-class lectures offers many impulses and inspirations. Decision-makers and start-ups meet industry giants and look forward to making new contacts. Big players and newcomers meet here to exchange experiences and ideas and to shape the future of online print together.
Three more speakers extend the programme
The programme is already online. Now there are three more top-class speakers to complete the programme.
Kim Koszuszeck is responsible for the support of large companies from the retail sector at Meta and supports them in the successful use of Facebook & Instagram for brand building and increasing sales. Among other things, he advises companies on best practices around digital offer communication.
Patrik Knutsson is an experienced expert in the printing industry and has founded Print.Page, an innovative B2B SaaS company. His goal is to build the world's first fully open and transparent multi-vendor marketplace for the printing industry. With 40 years of professional experience, Patrik Knutsson will provide valuable insights into the industry and what future developments look like.
Mark Young decided to join the fast-growing e-commerce company Bluetree after studying graphic design. He is now managing director of the entire print division and is driving the company's expansion into new markets. As a digital expert with a creative focus, he provides valuable insights into trends and developments at the Online Print Symposium.
Insight Pitches - six start-ups present themselves
This year, six pioneering start-ups will present their forward-looking solutions for online print at the Online Print Symposium. With their technologies and know-how, the start-ups offer progressive ideas for the print industry. The founders of ayke labs UG, grow.photos GmbH, two worlds, prinnit.de, Boxsys and Tessitura GmbH will use the Insight Pitches to present themselves and their innovative business ideas to the audience.
Top partners complement the OPS
Three more companies will not miss the opportunity to use the partner exhibition at the anniversary event to present their new products and innovations.
Infigo, the UK's leading provider of personalised print and e-commerce solutions, will present its innovative web-to-print platform. The fully configurable and scalable solution enables businesses in various industries to create e-commerce storefronts with their own branding and a powerful personalisation editor.
Canon, global provider of imaging technologies and services, is also a partner of the Online Print Symposium. The core businesses of office equipment and cameras will be complemented by four new business areas that will shape Canon's future: commercial printing, network cameras, medical and industrial equipment.
Hoodie Hoo, a start-up on stage at the Online Print Symposium last year, is already a partner this year. The founders want to continue their success story and are therefore presenting themselves with a partner stand. In addition, they are looking for new contacts and cooperation partners.
Insider-Get-Together and Networking-Dinner
The symposium starts the evening before with the Insider Get-Together directly at the event hotel. This is an ideal way to get to know or meet speakers, partners and guests in a casual atmosphere and to exchange ideas in a relaxed setting.
On the evening of 23 March, the ground floor of the Science Congress Center will be the venue for the big networking dinner. This is where numerous successful business relationships have already begun. The networking dinner offers an excellent opportunity to network with like-minded people, make new contacts and exchange valuable experiences.
Co-organiser Bernd Zipper, Managing Director of zipcon consulting GmbH, can hardly wait for it to start: "Every year, the OPS is the place to meet friends and business partners again, but also to exchange ideas with creative minds that are still unknown and to make new, exciting contacts. So many partnerships have been made here, certainly also because the atmosphere is unique. We put great importance to this and are proud that the OPS has become so important for the onlineprint industry!"
Last chance for tickets
Tickets are still available and late comers can take the opportunity to become part of the online print community and network with the best of the best!
Tickets for the Online Print Symposium 2023: https://www.online-print-symposium.de/en/registration/
The latest information on the Online Print Symposium is available here: https://www.online-print-symposium.de/en.
Event Team of the 10th Online Print Symposium
zipcon consulting GmbH is a globally active consulting company for the communications, print, and media industry with a focus on online print and digital transformation. The company sees itself as an independent and comprehensive technology and strategy consultancy. Zipcon also produces market studies and various case studies for e-business print, mass customization, and multichannel publishing. Leading companies in the online print industry rely on the expertise of this company. www.zipcon.de
The German Printing and Media Industries Federation (Bundesverband Druck und Medien e.V. / bvdm) is the central association of the German printing industry. As an employers' association, political trade association and technical trade association, it represents the positions and objectives of the printing industry vis-à-vis politics, administration, trade unions and the supplier industry. The bvdm is supported by eight regional associations. It is organized internationally through its membership of Intergraf and FESPA. www.bvdm-online.de