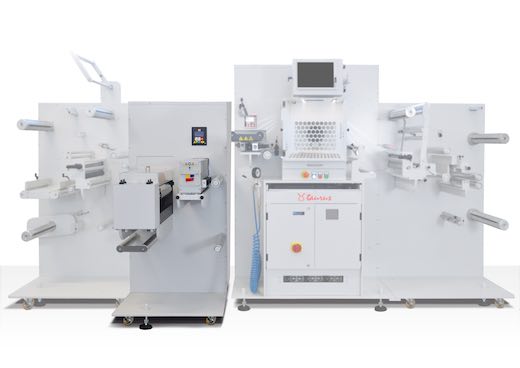 Available now for DPR's Taurus TRS35PL label finishing system.
MILAN, Italy—Labeling equipment manufacturer DPR has partnered with UV Ray to develop a UV varnish module for its Taurus TRS35PL label finishing system, a professional roll to roll system with digital laser cutting and laminating.
The Taurus TRS35PL converts pre-printed media into die-cut labels at rapid speeds up to 30 m/min (dependent on laser power, cut pattern, and material being used). Unwinding, laminating, digital cutting, waste removal, rewinding, and length slitting in a single pass are all features of this label finishing machine.
A new feature of the Taurus TRS35PL is the integration of an in-line UV varnish module as an alternative to cold lamination to offer superior label finishing in relation to the required application. It is equipped as a flexographic unit with an anilox cylinder capable of depositing 3.5 grams of varnish per square meter and a UV Ray lamp that cures it on the material. The power of the UV Ray lamp is automatically adjusted according to the laser cutting speed and when the media stops inside it, the protective shutter immediately intervenes.
"With our UV varnish module option, printers are no longer restricted to laminate labels with only cold foil which involve other off-line steps, additional time, and equipment costs," said Michael Panzeri, Vice President of DPR. "Applying UV varnish to labels with the reliability and curing quality of the UV Ray lamp for a semi-gloss finish minimizes fading or discoloration of the label."
"UV Ray is pleased to partner with DPR, to provide their customers UV finishing options with their customized varnish module," said Stefano Maiano, UV Ray production director. "Adding an extra layer of protection with a glossy effect through UV coating results in a highly durable and visually appealing label."