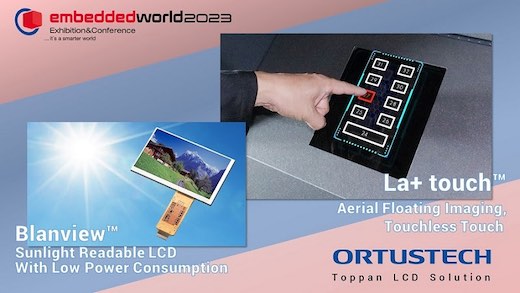 Cutting-edge offerings will go on show in Nuremberg, including an aerial touch display with a body 50% thinner than previous models.
Tokyo – Toppan, a global leader in communication, security, packaging, décor materials, and electronics solutions, will participate in embedded world 2023, which will be held at NürnbergMesse Exhibition Centre in Nuremberg, Germany, from March 14 through 16.
Over the 20 years since the first embedded world drew more than 350 participating companies in 2003, the event has grown into a global platform for the embedded technology community, ranging from components and modules to operating systems, hardware and software design, machine-to-machine communication, and more. In 2019, more than 1,100 companies participated at the venue in Nuremberg, presenting diverse products and solutions to roughly 30,000 visitors.
Toppan debuted at embedded world 2021, which was held completely online due to the COVID-19 pandemic. This year, however, Toppan will run a booth at the live venue for the first time.
Items on show will include the latest 12.1-inch model (prototype) of La+ touch™, a contactless aerial touch display enabled by unique technology. La+ touch™ was the world's first display of its kind to generate images parallel to the panel when it was launched in 2020, and this will be the first time an actual La+ touch™ display has been showcased outside Japan.
Blanview™, meanwhile, is Toppan's brand of TFT-LCDs delivering an outstanding combination of high outdoor visibility and low power consumption. The Toppan booth at embedded world will feature the latest Blanview™ displays, which are designed to be incorporated into industrial devices used in such settings as factories and construction sites.
"We have really been looking forward to this opportunity for everyone in the European embedded device industry to experience firsthand our new LCD products, including our groundbreaking aerial touch display," said Shigeaki Fujiwara, sales GM in Toppan's Ortus division, which handles the LCD business. "Toppan's display solutions deliver the outstanding quality, energy efficiency, and technologies for enhanced safety and security needed by professionals in diverse industries and also offer value for society as a whole."
Main solutions on show
Large 12.1-inch model of thin aerial touch display
La+ touch™ is a next-generation interactive display that generates images in the air and enables contactless operation by users, who only need to align their fingers with the position of the floating images. Since the initial product launch in October 2020, Toppan has made a series of enhancements, such as increasing the viewing angle, improving image quality and clarity, and significantly reducing power consumption. Aerial touch displays have been adopted for large office buildings, and because operation is contactless, the panel remains clean, aiding maintenance work for equipment at factories and other facilities. At embedded world 2023, Toppan will present an actual La+ touch™ device for the first time at an event outside Japan.
Related releases:
https://www.toppan.com/en/news/2020/10/newsrelease201012e.html
https://www.toppan.com/en/news/2021/09/newsrelease210915.html
New Blanview™ displays
Toppan's Blanview™ series of TFT-LCDs brings together high outdoor visibility and low power consumption. Since going on the market in 2008, Blanview™ displays, in particular 7-inch and smaller models, have been adopted for diverse applications, such as handheld devices and electronic dictionaries. At embedded world Toppan will showcase new models designed to be built into industrial devices used at factories and construction sites.
? 10.4-inch SVGA model and 12.1-inch XGA model of Blanview™-F, a large-screen, high-definition display.
? 2.0-inch model of Blanview™-R, an ultra-low-power display that is visible even when the backlight is turned off during the day.
? 3.1-inch model of Blanview™ Round-LCD, a display that can replace analog gauges and dials.
For more information on the solutions featured in the Toppan booth:
ORTUSTECH - Toppan LCD Solution
(https://www.linkedin.com/showcase/toppan-ortustech/)
About embedded world 2023 Exhibition & Conference
Dates: March 14 to 16, 2023
Venue: NürnbergMesse Exhibition Centre
Organizer: NürnbergMesse GmbH
Website: https://www.embedded-world.de/en (English/German)