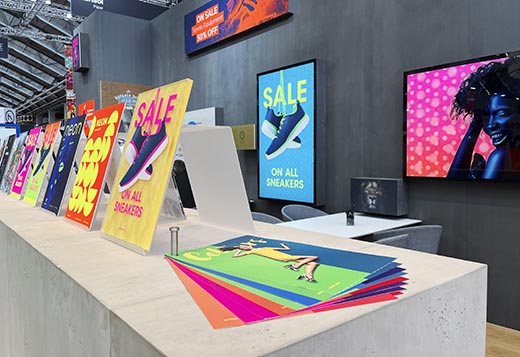 swissQprint will be at the spring trade shows ISA, Las Vegas, and Graphics Canada, Toronto, presenting the company's latest product developments alongside inspiring print applications. Show attendees will discover how they can leverage both these aspects to raise their profile in digital printing and combine profitability with environmental protection.
swissQprint will be showing ways for print service providers to effectively position themselves in a competitive environment and address prevailing market conditions. "We're eager to engage with attendees to learn more about issues of importance to the industry," says Erik Norman, President of swissQprint America.
Premium print quality
The Nyala flatbed printer – Europe's favorite printer in its category for seven years running – is now on its fourth generation, using the latest print head technology. The word from swissQprint is that 1350 dpi resolution combined with precise droplet placement yields a new dimension in output quality. Attendees will be able to see this for themselves in live demonstrations.
Unique applications
swissQprint offers neon inks for UV printing – an exclusive. Then there is relief printing and varnish enhancement to expand the repertoire. All this is possible for both flatbed and roll to roll printing, which is to say using virtually any type of substrate. Demos and samples on display at the booth will showcase the versatility of swissQprint large format printers.
Easy on resources and on the environment
Low power consumption in a time of energy scarcity has to be good news in terms of profitability as well as sustainability. All swissQprint LED printers are certified for their high energy efficiency. Moreover, the machines are low maintenance and outstandingly durable, for service life lasting a decade and more. So swissQprint users can expect to achieve maximum ROI with a minimum environmental footprint.
In-depth information on all of these topics will be available to ISA attendees in Las Vegas, April 12–14, 2023, at booth 4939, and to Graphics Canada attendees in Toronto, May 11–13, 2023, at booth 5340.