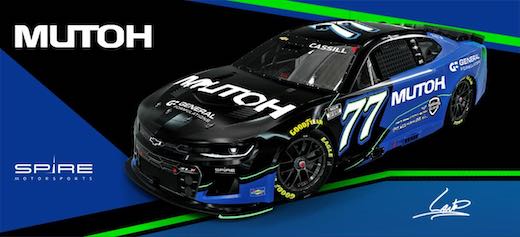 PHOENIX, AZ - MUTOH's outstanding performance and print qualities have Spire Motorsports looking to increase its print production with a new addition to its in-house printing solution. Spire Motorsports will be adding another MUTOH printer to its shop for all their print needs for both race cars Nos. 7 and 77 Chevrolet Camaros, transporters, and more.
Spire Motorsports chose MUTOH's XpertJet printer and ValueCut cutter in 2022, resulting in unparalleled print quality for its NASCAR efforts.
The team received such impressive results, it will continue relying on MUTOH's products in 2023 while adding the ValueJet-1627MH printer to its fleet of MUTOH printers. With this potent combination of MUTOH equipment, Spire Motorsports enjoys turnkey printing and vinyl wrapping operations in house, increasing both production and efficiency at the team's Concord, N.C., headquarters.
"MUTOH America provides Spire Motorsports with state-of-the-art printing and vinyl-cutting equipment, affording our race team with vital efficiencies," said Spire Motorsports President Bill Anthony. "As the sport continues to evolve, and partnerships become more dynamic, we must be nimble and sometimes pivot in the moment. That makes it vital to have turnkey printing and vinyl-cutting solutions in-house. We're proud to have best-in-class partners like MUTOH America to make sure our race cars look their absolute best when we hit the track."
Mutoh America, Phoenix, Ariz., and Mutoh Industries Ltd., Tokyo, Japan, founded in 1952, is a leading manufacturer of wide- and small-format printers and plotting cutters. Known for its smart printing technologies, Mutoh's award-winning digital equipment is a "go-to" brand in the custom vehicle wrap industry.
"We are very proud that Spire Motorsports has chosen our MUTOH equipment as their exclusive solution for wrapping the team's cars and transporters for another NASCAR season," stated Brian Phipps, President of Mutoh America Inc., "We are excited to have our printers and cutters used in the NASCAR Cup Series by a top-notch team like Spire Motorsports and wish the team the best of luck this year!"
MUTOH America is looking forward to the season ahead and seeing the team's cars race in a wrap that was printed using MUTOH products. For more information about MUTOH America, please visit mutoh.com.
The 2023 NASCAR season begins in L.A. with the Busch Light Clash at the Colosseum on February 5th. The event will be broadcast on FOX at 8:00 pm ET. Make sure to tune in and keep an eye on the Nos. 7 and 77 Chevrolets!