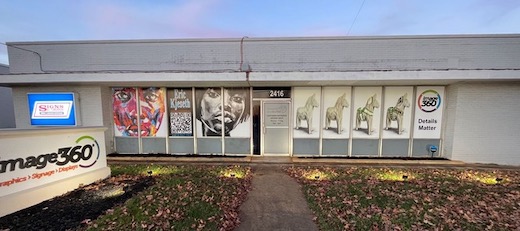 Local Signage Provider Showcases Local Artwork Outside of Center
LYNCHBURG, Va. – Lynchburg's leading signage and graphics solutions provider, Image360, continues its "featured artist" initiative to highlight local artists and their work outside of its printing center, recognizing community members and their dedication to encapsulate art.
The idea sprung from Image360's production manager, Erik Custer, who has been in the art industry for over 22 years. As a member of the Lynchburg arts scene, the idea came from Custer's inspiration from other local artists and aims to recognize the incredible work of fellow artists. This spotlight program will see its two-year anniversary come up in 2023, and Image360 plans on continuing to showcase the local art community for years to come.
"It all started when I purchased the building. I noticed the exterior was lacking a 'wow factor' that our guests should be greeted with when entering our business. Erik recommended sharing local artwork, and the rest is history," said Arthur Pike, owner of Image360 Lynchburg. "We're thrilled that the featured artists' projects have been loved by the community, and we look forward to continuing to highlight those making a different through their dedication to meaningful artwork."
All featured artwork materials are printed at no costs to the artists. All artists need to do is share the digital art file with the printing center, and the website they would like to be linked to with the artwork.
Image360 Lynchburg sits on one of the busiest streets in Lynchburg, giving featured artwork premiere exposure to the local community. Additionally, passersby are welcomed to learn more about the featured artist through the incorporation of a QR code system. All visitors need to do is scan the code, and the artist's desired website will link directly onto their phone.
"To be able to feature so many talented locals is so important to us at Image360 Lynchburg," said Custer. "I've always wanted to be in the industry of creating art and being able to share it with the public. Working at Image360 allows me to do just that, with our client work, and with the featured artist project as a chance to dedicate a canvas to local artists."
Currently, all featured artists are selected by invitation only from Image360 staff. Custer and Pike seek out local artists by word-of-mouth and like to feature those whose artwork inspires change, showcases diversity and makes a difference in the community.
Image360 provides custom graphic solutions for businesses and organizations throughout Central Virginia and beyond. From the simplest signage projects to the most complex, trained graphics specialists work closely with clients to maximize the creativity and visual impact of environmental graphics, mobile graphics, wayfinding solutions, ADA signage, promotional displays and more.
For more information, contact Image360 Lynchburg at 436-385-8070 or visit the company's website at lynchburgva.image360.com.