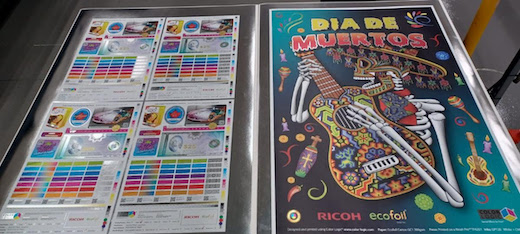 Ricoh / Color-Logic Flatbed Printer Images
West Chester, OH, USA--Color-Logic has announced certification of three Ricoh flatbed printers: The Ricoh Pro™ TF6250, the Ricoh Pro™ TF6251, and the Ricoh Pro™ T7210. All three printers feature white ink and are particularly well-suited for use with the Color-Logic metallic print system. Discussing the certification, Mark Geeves, Color-Logic Director of Sales and Marketing, said: "Color-Logic certification of the Ricoh Pro TF6250, TF6251, and T7210 flatbed printers makes metallic prints and embellishments available to a broad spectrum of signage, point-of-purchase, display, package prototyping, or short-run carton and label applications. Color-Logic is pleased to certify and partner with one of the leading wide format printer manufacturers worldwide. The Color-Logic color system of 924 colors and print embellishments, together with the quality and reliability of Ricoh printers, opens the door for printers seeking new markets and higher margins."
For more information, visit www.color-logic.com or call +1-513-258-0047.