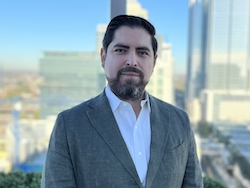 Charlotte, NC We are pleased to announce Francisco Morelos has joined the Polyart leadership team as President of Sales and Marketing in North America.
Francisco brings more than 20 years of work experience in sales, marketing and product development leading teams in North America, LATAM and APAC, including his most recent position as Product Management Director for Berry Global.
"With Francisco joining the team in this new position, Polyart is adding his vast expertise on engaging with customers and internal teams to develop solutions and products for our North America customers." commented Louis Rouhaud, global marketing director of Polyart.
Prior to Berry Global, Francisco participated in Cummins Inc. as part of the commercial team. He holds a bachelor's in Marketing from the Instituto Tecnólogico y de Estudios Superiores de Monterrey.
Francisco lives in Charlotte, NC with Roxana, his wife. He's an enthusiastic runner with 10 marathons.
"I'm very excited for having the opportunity to work with this talented group of people. Polyart is growing and moving in the right direction to demonstrate our leadership in innovation and sustainability with products that support our customers", said Morelos.
To learn more about POLYART: www.polyart.com