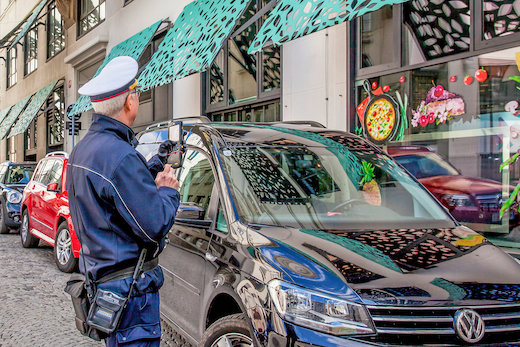 E-reader parking permit program expands from central Vienna to surrounding suburbs, with goal of halving commuter traffic by 2030.
Blauvelt, NY – Schreiner PrinTrust, a Germany-based developer of customized RFID solutions and security labels for system and service providers with a focus on identification and authentication solutions, is supplying universally adopted stickers for a next-generation parking system in Vienna, Austria. The successful system has now expanded from Vienna proper to the surrounding suburbs, doubling the number of managed parking spaces.
Austria's capital city utilizes connected parking zones for all residents, complete with standardized prices and parking periods. Visitors must park in lots, and are encouraged to park in "p+r" parking garages and use public transportation. In doing so, the city has devised a system that is uniform, understandable and fair to residents, with a goal of halving daily commuter traffic by 2030. The model is seen as a possibility for North American cities with longstanding congestion issues, including New York, Chicago, Los Angeles and Toronto.
Moving forward, parking throughout Vienna is permitted only with an electronic parking permit sticker or special parking ticket. Outfitted with a modern RFID chip, the rugged, ultra-adhesive stickers can be used interchangeably throughout Vienna's various parking districts. The smart solution also is owner-agnostic, as permit renewals can be performed under a new vehicle owner, if applicable.
Vienna launched the project's pilot phase in late 2015, with Schreiner PrinTrust developing the sticker's RFID parking chip in collaboration with the city's municipal district office. The following year, the parking permit enabling police officers to automatically identify vehicles via a simple handheld reader was introduced.
The reading process is contactless from a few meters' distance – even without line of sight. The result has been significantly reduced administrative effort for both parking enforcement officials and drivers. Based on these successes, the system was officially adopted on a city-wide scale.
"The ability to read traffic permits from a distance is much faster and efficient, requiring far less hassle and manpower," said Dr. Kai Schnapauff, President of Schreiner PrinTrust. "It eliminates the need for authorities to develop and manage a variety of complex, disparate parking systems, and benefits drivers because they have one uniform system for the entire area."
Vienna plans to use revenue generated from the seamless new parking billing system to fund a variety of projects – including sustainability-minded public transportation infrastructure.
"The extension of the parking sticker to all districts is a milestone achievement for climate protection and quality of life in our city," said Vienna city council member for mobility Ulli Sima. "With the consistent expansion of public transportation, we offer affordable and attractive alternatives for switching to eco-friendly means of transportation. The parking sticker's use across the board puts an end to the previous hodgepodge systems, and to displacement effects in neighboring districts. The traffic volume is reduced, finding a parking place has become easier, and more space for residents is created."
For more information, call 845-848-9000, e-mail [email protected] or visit www.schreiner-protech.com.