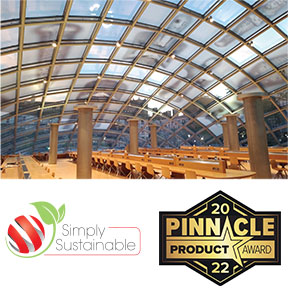 Stow, OH — Mactac is proud to announce that IMAGin Simply Sustainable Crystal Cling received a coveted PRINTING United Alliance 2021 Pinnacle Product Award for Media - Adhesive Back (not vinyl). The winning entry can be found online at the Pinnacle Product Awards Gallery.
Open to all PRINTING United Alliance supplier members, the Pinnacle Product Award competition evaluates products that will be available for sale in 2022. A highly qualified panel of judges across the printing industry evaluated the annual contest's 160+ entries in more than 58 categories spanning analog, digital, output, and non-output technologies.
"IMAGin Simply Sustainable Crystal Cling, primarily designed for window or glass surfaces, is also versatile for other applications. Created with a unique polymer technology that delivers notable benefits over traditional static cling products or similar PVC-based products, it meets current regulatory standards of the U.S. Consumer Product Safety and Improvement Act (CPSIA)," said Amanda Smith, Marketing Communications Manager, Mactac. "We couldn't be more pleased with the product's success and consider it an honor to have been chosen by Printing United's judges for this coveted award."
"One of the things I like best about our competition is that it is juried, and judges are basing their decisions on objective criteria. And with outstanding entries like IMAGin Simply Sustainable Crystal Cling, they had their work cut out for them," said Dawn Nye, Program Manager Pinnacle Awards, PRINTING United Alliance.
"The Pinnacle Product Award competition represents the best of the best among commercial hardware, software, consumables, and industrial and screen equipment," Weiss said. "Congratulations to all the winners."
This 4.0-mil gloss clear removable PET film offers excellent clarity and print compatibility with UV and latex inkjet printers. It features 3.0-mil polyester traction back the release liner and is intended for short- to medium-term advertising on glass surfaces such as windows, displays, and signboards. IMAGin Simply Sustainable Crystal Cling can be applied using wet or dry application methods and functions well at a wide range of temperatures.
Award winners will receive a digital badge that will give information on their product embedded into the meta-date of the badge; for more information about the awards and how to participate in future Pinnacle Awards Programs, visit https://pinnacleawards.printing.org/.