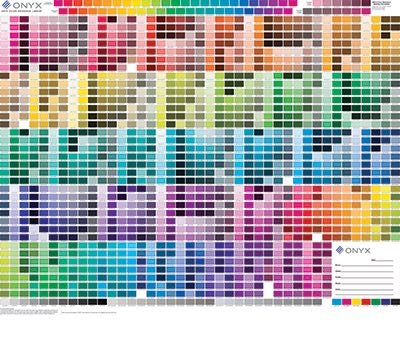 Visitors to see how new ONYX Color Reference library can save time and media costs
SALT LAKE CITY -- At the upcoming PRINTING United tradeshow, Onyx Graphics, Inc., will be showcasing color automation tools using the new ONYX Color Reference Library, available exclusively in ONYX 22. This latest version of industry-leading ONYX software was released globally in July, providing a new drag-and-drop user experience with easy-to-use tools for everyday automation. As part of the release, the ONYX Color Reference Library includes a smart pdf to show in- and out-of-gamut colors for any printer and media combination. Booth visitors will get to see first hand how to utilize this new tool to reduce color management time and save valuable media costs. Demonstrations will be held in the Onyx Graphics booth N1235 at the PRINTING United tradeshow, October 19-21 in Las Vegas, Nevada.
"It's easy to see the impact of inflation across the print industry and its downward pressure on print business profitability" said Matt Crawford, President and CEO of Onyx Graphics. "Having tools that give confidence to print right the first time and save both time and media costs is integral for a print business to remain competitive in this new landscape."
The ONYX Color Reference Library also integrates into prominent design software including Adobe Illustrator and CorelDRAW, with download files available on the company's website. "Color management is an important task for any print shop concerned with consistent output," said Ray Weiss, Vice President, eLearning & Certifications at PRINTING United Alliance. "Providing new and interesting ways to match color without impacting valuable production time speaks to the way PRINTING United Alliance feels about industry innovation".
Availability
ONYX 22 software is available now, covering the entire product portfolio of ONYX solutions including ONYX Thrive print workflow software; ONYX Go, the company's RIP software subscription, ONYX PosterShop, and ONYX RIPCenter RIP software. It will be available to all ONYX Advantage customers by requesting a key update, is included as part of ONYX Go subscriptions, and to all other customers through a license or subscription purchase. As part of the company's attendance at PRINTING United, Onyx Graphics is promoting a special offer for all booth visitors. Customers are encouraged to visit www.onyxgfx.com for more information.
Teaming with industry leaders
Onyx Graphics proudly supports the widest range of industry leading printers and manufacturers. In addition to the Onyx Graphics booth at PRINTING United, ONYX software will be driving printers in numerous partner booths around the show. Visit Onyx Graphics at booth N1235 for a complete list of partner booths showcasing the power of ONYX software.