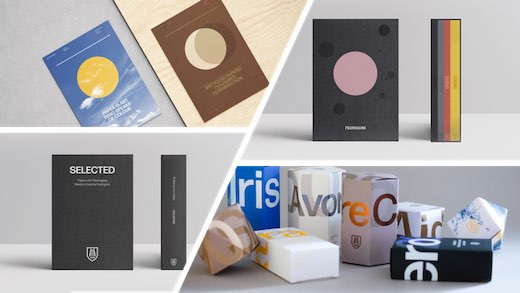 London, UK: Luxury paper specialist, Fedrigoni UK, announces the launch of its new reference tool 'Selected', providing the packaging industry with a new guide, showcasing the compendium of trending packaging application methods to its range of materials. Launching exclusively at this year's London Packaging Week taking place on the 21st and 22nd of September.
The tool spotlights 60 of Fedrigoni's best papers and boards for packaging use, with each specially selected to show how colour, texture and finish can elevate an image, illustration or typographic design on pack. Penny Greenwood, Paper & Packaging Consultant at Fedrigoni UK, commented: "We created this tool to inspire designers and let them explore the possibilities our papers can offer packaging design."
'Selected' demonstrates a variety of ways to print with the latest processes – UV, for example, foil stamp, blind emboss and die-cut. Neatly displayed through 36 showcards and 12 carton box mock-ups.
The new toolkit was created by Design LSC, with input from the Fedrigoni team, in which previous conversations with customers presented an opportunity to illustrate the multiplicity of Fedrigoni paper. The team spent time to create the perfect examples, experimenting boundlessly to create demos that consider the latest packaging trends of pastel hues paired with black, bright and bold palettes and textures.
As a part of the collection, Fedrigoni showcases one of its latest innovative papers, Splendorgel Extra White High Barrier Technology. Splendorgel HBT for short, is a significant challenger to its plastic incumbent. The high barrier technology is a water and weather resistant layer on top of the paper, which allows use for indoor and outdoor applications from fresh grocery packaging, to garden labelling, to out of home advertising such as billboards.
Penny Greenwood adds: "This labour of love from Design LSC and the Fedrigoni team is an example of how to push the boundaries of brand packaging designs, and equally focus on elevating current trends in the sector. We found new and ambitious combinations to recommend and showcase the versatility of Fedrigoni paper."
'Selected' was designed by Luigi Carnovale from Design LSC. For more information, please visit designlsc.com, or speak to your Fedrigoni Paper Consultant.