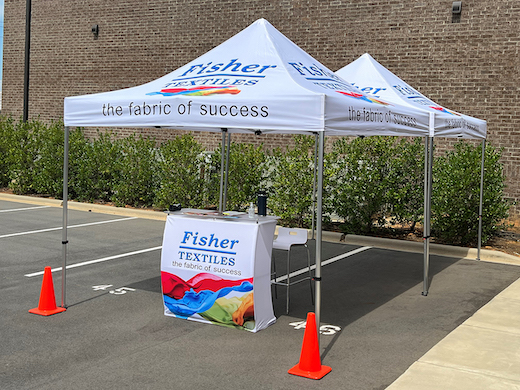 Fisher Textiles' GF5300 is a DWR treated fabric media for canopy tents and outdoor banners. Additional uses include shower curtains and water-resitsant table cloths.
Matthews, NC - Fisher Textiles, the leading supplier of fabric for digital printing, is pleased to introduce GF 5300 Waterfall, a dye sub printable canopy tent fabric that has a durable water resistant (DWR) treatment for outdoor use.
When wet, water beads up on the fabric's surface instead of leaking through the material, making it an excellent choice to withstand precipitation elements. Tested under AATCC TM 22-2017, "Water Repellency: Spray Test", which measures the water-repellent efficacy of the DWR finish, results were 95, 95, 100. The grading system used is from 100 (no sticking or wetting of upper surface) to 0 (complete wetting of whole of upper and lower surfaces).
GF 5300 Waterfall can also be used for street pole banners, awnings and home decor products such as water-resistant table cloths and shower curtains. This fabric is stocked 122-inches wide, weighs 6.9 oz/yd 2 and is flame retardant (NFPA 701).
Contact Fisher Textiles at 800-554-8886 or [email protected] for more information.