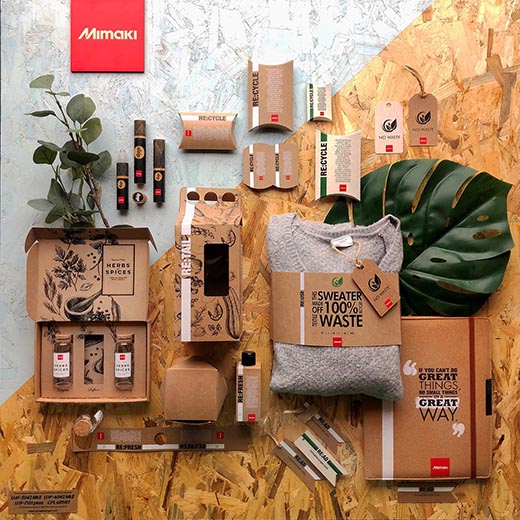 Mimaki will inspire visitors to LUXE PACK with a wealth of samples of high-end packaging for cosmetics, perfumery, and other luxury industries including luxury textiles.
Mimaki return to LUXE PACK Monaco 2022 to share with and demonstrate to decision makers the potential of harnessing Mimaki technology for the packaging industry.
Monaco – Mimaki Europe, the leading manufacturer of inkjet printers and cutting systems, will once again celebrate luxury packaging at LUXE PACK Monaco (Grimaldi Forum, Monaco – 03-05 October, Stand DD02Bis). Exhibiting at the foremost show for premium packaging, Mimaki will demonstrate how brand owners and packaging professionals can achieve first-class, one-off luxury packaging with Mimaki's advanced printing technology.
The event will allow Mimaki to showcase the capabilities of their printing and cutting technology with a wide variety of eye-catching applications on stand, to engage and inspire brand managers and designers alike in the luxury packaging industry. Mimaki spokespeople will also be on hand, to explain and demonstrate the unmatched benefits and versatility of using Mimaki technology to print and cut on solid, soft, or flexible materials, as well as on recycled substrates and luxury textiles, with a range of different inks. This allows users greater freedom with personalisation, customisation, and ultimately realisation of their vision, with endless possibilities.
On stand, visitors will be able to see Mimaki's UJF-3042 MkII e flatbed UV inkjet printer, with the Kebab option. This addition was created for 360-degree printing directly onto cylindrical objects of differing materials, such as stainless-steel drink tumblers and glass bottles, and so is perfect for printing on luxury goods such as perfume bottles or cosmetics.
Lastly, Mimaki are also set to showcase a range 3D samples of packaging prototypes for the luxury packaging industry, including perfume bottles, tubes, and jars, produced with the company's advanced 3D printers, the 3DUJ-553, and 3DUJ-2207. Since their introduction to the market, Mimaki's full-colour 3DUJ Series has opened up the door to those looking to print high-quality prototypes efficiently and cost effectively.
"Based on the success of last year's show, despite coming just many companies were emerging from the pandemic, we are really looking forward to showcasing what Mimaki are all about, and what our technology can bring to the table for the exciting and ever-evolving industry of luxury packaging," explains Martial Granet, Branch Manager, Mimaki France. "The printers that we will have on stand demonstrate a diverse range of applications for the key players in luxury packaging, and I know visitors to our stand will be blown away by the speed, quality and versatility of our technologies" Granet concludes.
If you would like to arrange a one-to-one interview with a spokesperson of Mimaki, please feel free to email [email protected] or for more information about products and services from Mimaki, visit www.mimakieurope.com.