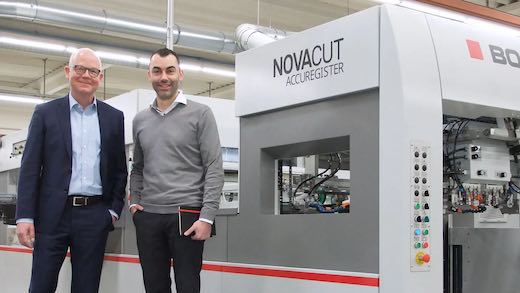 Within a few months, they have carried out successfully the beta testing of the BOBST NOVACUT 106 ER flat-bed die-cutter with the new ACCUREGISTER "contactless" sheet-feeding: ? Höhn Display + Packaging Operations manager Markus Laepple (right) and Hans Dreistein (Bobst Meerbusch).
How Höhn Display + Packaging uses a BOBST NOVACUT 106 ER with ACCUREGISTER to boost its market position
Mex, Switzerland–In the fall of 2021, Höhn Display + Packaging installed the BOBST NOVACUT 106 ER, the world's first flat-bed die-cutter with the new ACCUREGISTER "contactless" sheet-register system. Höhn is an old-established manufacturer of games, displays, and folding boxes, and its customers believe it has set an example by putting into service this Autoplatine® die-cutter with inline blanking.
Today it's a 2.4 mm litho-laminated corrugated board, tomorrow 100-gram paper, after that environmentally-friendly solid or recyclable cardboard – Höhn Display + Packaging GmbH works with a wide range of materials. "Our extensive product range poses a real challenge to the flexibility of our machine technology, particularly in die-cutting," explains Markus Laepple, Operations Manager of the company headquartered in Ulm, Germany
"No matter which material the new machine is processing, the quality is consistently at the top level. The register precision and flatness of our gameboards, for instance, stands out on the market. The procurement and quality managers of our customers see the difference," affirms Laepple, a trained offset printer who has been working in the packaging industry for more than 20 years.
A reliable path to high quality
It's obvious that innovative technology plays a key role. Höhn considers ACCUREGISTER one of the main performance features of the NOVACUT 106 ER. "ACCUREGISTER underscores our high quality demands. And our products confirm that we really are a tad better," states Laepple.
The new sheet-register system is based on the legendary optical POWER REGISTER, brought to market by BOBST over 20 years ago and unique to this day. For the ACCUREGISTER, BOBST has adapted the best attributes of the POWER REGISTER specifically to the NOVACUT line. The new sheet-register system thus enables very short setup times in the die-cutting process. At the same time, it minimizes stops caused by the feeder. Waste is reduced in both the setup process and during production, which also makes the production process and the products more sustainable.
ACCUREGISTER aligns the sheets at full speed, without mechanical stops, "contactless" and thus gently. Laepple: "ACCUREGISTER reliably exploits this, especially with thin paper and material laminated on both sides." The high-performance system cameras read both printed images and marks. And if that's not possible, the cameras simply read the sheet edges. When the sheets are fed into the machine, the system calculates within milliseconds the corrections required and automatically remedies them as the sheets accelerate; over a wide correcting range, up to ±6mm in forward direction and ±13mm in lateral direction - even with transparent material.
BOBST offers various options for the NOVACUT line to make the processing, and thereby the register precision, of different materials even more flexible. Höhn Display + Packaging uses the antistatic device for processing paper, and the heavy boardequipment for processing sheets that are not entirely flat.
Crucial competitive advantages
Laepple: "High register precision is increasingly important. For instance, just recently a customer carefully checked the accordance of braille embossing on the front and back sides of a box. But we do not have to worry about register precision since using ACCUREGISTER." During the alignment of the cut-to-print register the system even compensates for print tolerances.
"The list of audit questions our customers ask is getting longer. Their queries typically concern conventional errors which we have eliminated by using the NOVACUT 106 ER in our die-cutting process. Our customers realize this and adapt their audit questions accordingly. This means that we no longer address certain issues in future audits," Laepple boils it down. In other words, the new die-cutter has further increased customer confidence in the reliability of Höhn Display + Packaging's production process.
"We proactively communicate the benefits of our new technology to the market and explain which errors can no longer happen in our process," says Laepple. Customers are glad to take Höhn up on that. "A frequent question, for example, is whether the high register precision of ACCUREGISTER means layouts and fonts can be set closer to the rills. The NOVACUT 106 ER has indeed made that possible." In a nutshell: When it comes to product design, customers have a bit more freedom.
Quick production changeovers
Production runs at Höhn Display + Packaging range from 700 to 600,000 sheets, at an average of 9,000 sheets. For efficient execution of large orders, the company has selected a NOVACUT 106 ER with an hourly output of up to 8,000 sheets. Today, the machine runs in three shifts and depending on the job, the machine is changed over several times a day.
For repeat orders, Höhn's NOVACUT 106 ER requires now only about one half-hour setup time, although currently one of every two die-cut jobs is a new order. Laepple: "We are working on optimizing setup times." Höhn is using various options BOBST has provided for the die-cutter. Examples include the Setup Time Reduction Pack and the Chase Changer.
The ease of use of the NOVACUT 106 ER user interface (HMI SPHERE) also supports short setup times. It features a largely self-explanatory guided menu. "We needed only two days training for it," Laepple recalls. Another reason for the short setup times is that Höhn Display + Packaging acquires its die-cutting tools only from manufacturers certified by BOBST. This ensures high tool quality. Höhn furthermore has its tools fitted with TooLink. This means that chips are built into the die-cutting tools which then register the data of every die-cutting job. The next time the tools are introduced into the machine, the data is read directly into the HMI, allowing for immediate identification of individual die-cutting jobs and automatic setting of HMI values.
Looking at the big picture
Considering the wide range of products and the size of the print runs, Laepple believes that currently Höhn Display + Packaging can hardly use a highly automated die-cutter like the EXPERTCUT to capacity. If the day comes when greater capacity is needed, space has been left between the three BOBST flat-bed die-cutters for a format 6 machine, or for a "fast machine" fully equipped with logistics. "When it comes to investment decisions we take a holistic view of our suppliers. The result clearly supported further stepping up our partnership-based cooperation with BOBST," calculates Laepple.
He believes BOBST has its finger on the pulse with a view of industry that builds on the pillars of digitization, automation, connectivity, and sustainability. This will always open new perspectives for process optimization, and is particularly true for the BOBST Connect platform. In addition to the remote technical support Helpline Plus, Höhn Display + Packaging is already using the productivity apps Remote Monitoring and Downtime Tracking. They help to fully exploit, and continuously boost, the performance of its new die-cutter by using data-based analyses.