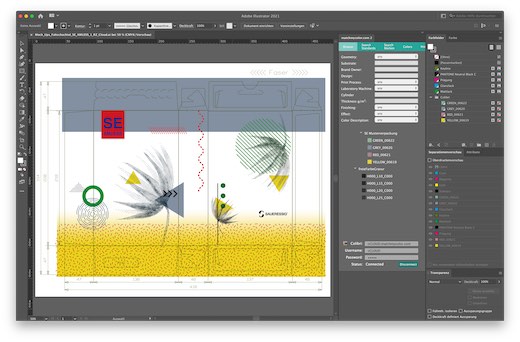 Vreden Germany – With c.CLOUD, SAUERESSIG e.GEN offers its customers an alternative to Pantone and thus responds with an innovative solution for Adobe users to the software provider's announcement not to include Pantone color libraries in the newest versions of their products.

For designers, agencies and suppliers along the pre-press stage, this is of course a real incision: Pantone color libraries not being supported furthermore in new versions of Adobe products such as Adobe Illustrator or Photoshop – not until Adobe and Pantone will have established a revised Pantone color workflow which is expected only in the coming months. Concrete timings are pending.

After the first uncertainty, this situation might open an empowering possibility for something new: Are there alternatives to Pantone? May these circumstances entail positive developments and offer the opportunity to react flexibly while at the same time establishing future-oriented workflows?
How does a viable and sustainable solution for Adobe users look like, with the power not only to fill this void, but also to bring added value?

Solution for Adobe Users with the connected color library c.CLOUD

With connection to c.CLOUD, SAUERESSIG's cloud-based color database, Adobe users and designers gain the possibility to deliver color libraries based on freely available spectral data (as an example the freieFarbe CIELAB HLC Colour Atlas). Existing own color standards as well as color drawdowns – for instance developed in the c.INKTEC-color lab based on customized and printing-process dependent parameters – can be made available in this integrated color cloud solution, internally as well as externally.

To easily connect c.CLOUD with Adobe products, a plugin for Adobe Illustrator and Photoshop is provided, thus retaining the user interface as accustomed and making it a very smooth transition from Pantone to c.CLOUD.

Recipes, color information and printing parameters can be integrated in the color standard, are available worldwide and can be accessed at any time. The cloud-based color database simplifies data transfer to the entire supply chain, thus ensuring brand consistency. This makes c.CLOUD a real alternative to Pantone.

"Our goal is to provide our customers with actual color libraries and color standards based on true spectral data for all kinds of printing processes. In addition, of course, for applications in the digital field," says Pascal Haddick, Product Owner c.CLOUD. "Our customers can count on our expertise and our support on all upcoming questions – as we see both the c.CLOUD team and the e.GEN business unit as a reliable service and solution provider."

About:

Working in an emergent collective of makers, problem solvers, visionaries and communicators, SAUERESSIG e.GEN creates digital experiences for a vibrant future. The business unit combines intelligent systems and services under one common umbrella brand. The services include automated software solutions, innovative learning systems and novel color communication modules via virtual reality. c.INKTEC, as a test and research laboratory, offers a creative space to discover digital value creation through integrated color cloud solutions, a training academy and 1st level support.

Agile structures and future-oriented workflows enable SAUERESSIG e.GEN to flexibly manage customer projects and develop solutions to individual challenges. The common objective: exploring new ways to develop innovative and tailor-made solutions through emergent collaboration. By believing in the power of emergence SAUERESSIG e.GEN reverses the traditional to enable a smarter world.