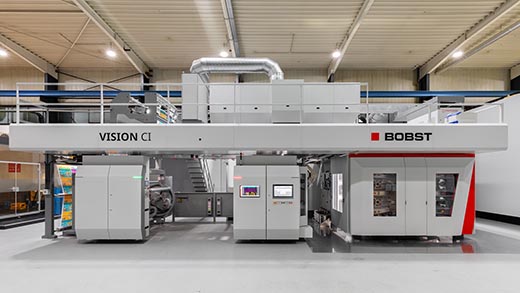 BOBST Group is proudly celebrating the 1st Anniversary of VISION CI, part of its market-leading range of flexible packaging press solutions.
Everyone connected with BOBST Group is delighted that VISION CI is fulfilling the expectations of our customers, finding success everywhere from Southeast Asia to Africa, Europe, and South America, covering every continent of the world.
The innovative BOBST VISION CI was launched offering the most efficient performance for all production lengths on a wide range of substrates. Fast to set up and change over, it features technical innovations and automation that ensure repeatable process consistency, minimum waste, and easy manufacturing. It is ideal for converters looking to add a powerful, versatile, and reliable production tool to their operation.
BOBST VISION CI features automatically opening and closing plate cylinder bearings equipped with a pre-load system for maximum stability. The exclusive tapered keyway for plate reference in combination with smartSET reduces waste of substrates and consumables at start-up and job change overs.
Productivity is improved by the increased press uptime that comes as a result of the two-component doctor blade chamber, working alongside the smart inking and easy cleaning systems. BOBST VISION CI also boasts optimum drying performance and energy savings thanks to its dual technology tunnel that works in tandem with a heat recovery system. The unit is available as an 8-color or 10-color press, each with a wide range of standard options.
BOBST VISION CI achieves superior print quality on a wide range of substrate thicknesses and types, delivering consistently excellent printing quality with solvent-based and water-based inks. HMI on the catwalk for web monitoring of the print result and convenient access to the CI drum make VISION CI operator-friendly, ensuring higher machine productivity.
This is only the beginning for BOBST VISION CI in CI-Flexo printing. VISION CI will be further improved with cutting-edge features like smartGPS and much more in the near future.