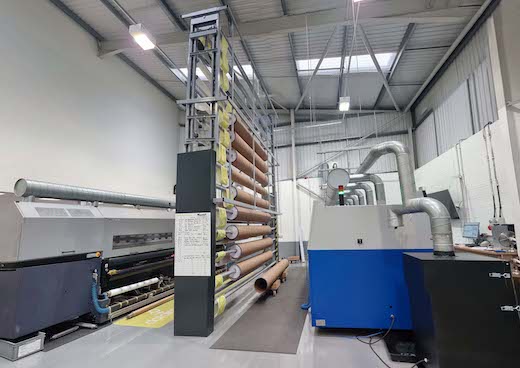 Vertical storage reduces waste, saves money, time and looks the business!
CMYUK, Shrewsbury: Data Image has invested in a 5.3m wide High Roller Carousel from CMYUK and placed an order for a second 3.2m system. The Leicester-based PSP had been looking for a suitable storage system for its roll material for some time and was delighted to find that CMYUK had exactly what it required.
"We have always had great racking to keep cheaper sheet materials, in pristine condition. We had nice little vertical racks for smaller rolls like vinyl but when it came to 3.2m and 5m rolls, storage had become somewhat challenging. We had modified some of the delivery pallets to hold 3.2m rolls in a rack, which still needed manual loading and unloading, but most of the time our large rolls of textiles – the most valuable materials that we use – were stacked on the floor," says Data Image MD, Robert Farfort.
Due to the way its textile rolls were being stored, the business was finding that it had to lose a metre in length across 3.2 or 5m widths on virtually every roll purchased due to damage or dirt.
"This is something like £30, £40 or £50s worth of material that's can't be used due to damage or dirt. To the operator, it doesn't seem like a lot, to them they've only wound-along a meter but that's along a 5m wide roll," says Robert.
For a company mindful of its green credentials, this amount of waste was unacceptable.
Data Image follows lean manufacturing processes to build in efficiency but its materials storage was falling foul of this practice. Not only was moving large rolls of material a two-person job, the required roll always seemed to be at the bottom of a stacked pile and taking valuable time to retrieve it. With the installation of the 5m High Roller Carousel all issues regarding material waste, damage and inefficiencies have been irradicated.
An ergonomic and practical solution
The CMYUK High Roller Carousel offers an ergonomic and practical solution. It doesn't take up expensive floor space but cleverly optimises the vertical space of a production facility. It can be customised to fit the exact dimensions required. It looks impressive too and actively increases overall productivity.
The High Roller Carousel significantly increases the storage capacity of a business, ensuring that all roll materials are retained in perfect condition and close at hand, ready for instant access and usage. The system will also improve inventory processes, making stock control more efficient, and therefore optimising material usage and reducing waste.
By utilising the vertical area of a building, customers can regain valuable space from inefficient storage, which may have impeded the installation of additional equipment, further impacting productivity. In comparison with traditional shelving and racking, the High Roller's footprint is minimal.
"It's incredible," says Robert. "It's really compact. It goes up rather than out utilising all that wasted space – ideal for these big rolls. It's bizarre because I don't think many businesses regard equipment like this as adding any value or increasing their bottom line. To them it's not like buying a printer where there's a direct correlation between the equipment and making money, but once you do the analysis, the benefits and cost savings are right there."
The 5.3m wide Carousel at Data Image is 6.5m high, and can hold up to 40 rolls. A control panel allows for simple manual up/down press button or automatic selection of a specified roll that is delivered to the operator/picker height at linear speeds between 4 and 6m per minute. However, rather than the optional trolleys, the business has designed its own automated hydraulic loading/unloading system which means the rolls require the minimum of manual handling. The Carousel has been installed between the company's 3.2m and 5m wide digital printers, which means that rolls can be directly loaded onto each as quickly and efficiently as possible.
In addition to improved efficiencies, the system has really sharpened up the look and feel of the company's Leicester-based production facility.
"It raises the bar with our staff internally to take pride in what they're doing," says Robert, adding, "We're proud of our operation and we like to show customers around. The Carousel has really tidied things up and looks very impressive. It actually creates a great talking point. We've ordered a second 3.2m wide system because we hold quite a lot of free issue materials for a few clients. With materials now stored on the Carousel, they can see how much care we're taking of their products. It's brilliant."