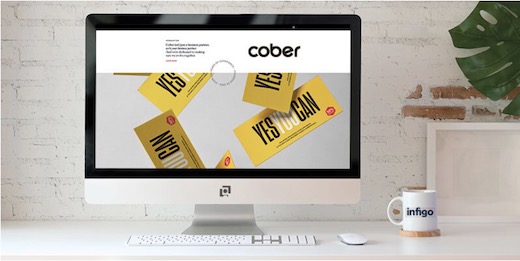 Canadian printer Cober has increased print on demand revenue by 20%, just 18 months after signing up to the Infigo web-to-print platform. Despite offering web-to-print services through a number of providers for 15 years, Cober switched to Infigo in April 2020 due to its clients' increasingly complex demands.
Erwin Driever, VP of Technology at Cober, said: "We required a highly responsive web-to-print system capable of supporting enhanced demands for highly complex variable data composition. However we also wanted a user friendly interface that could easily integrate with our other systems.
"Our research led us to Infigo and we all felt that this was the best solution for our current requirements and future needs."
By integrating Infigo with Cober's MIS, Tharstern, as well as their internal workflow, automation, payment and shipping systems - the company can now receive orders, take payments, manufacture and ship orders, all with minimal human intervention.
Erwin says: "The ability to provide end to end manufacturing and shipping, with as few touches as possible, provides benefits such as faster response, quicker turn-around times, efficient manufacturing and timely shipping.
"Infigo's web-to-print software has positively impacted our business. We have been able to increase our web-to-print portal presence by more than 10% during these crazy pandemic times, adding new, better and more responsive functionality that we previously couldn't offer."
Cober's initial plan was to migrate all its existing web-to-print portals to the Infigo platform directly after implementation and training. "By accomplishing this task, we knew we would become more efficient by managing all of our web-to-print portals on a single platform."
However, Erwin admits this transition hasn't been as smooth as the company was anticipating, due to the staggering increase in demand for their web-to-print services.
"We were slowed down due to interest from new customers in our web-to-print services, all based on what the Infigo solution could provide. While we continue migrating existing sites to Infigo, we have been fortunate to acquire and onboard a number of new clients from some major brands, resulting in an increase in revenue in our on-demand pillar by 15%-20%", Erwin said.
Douglas Gibson, CEO of Infigo, said he isn't surprised by the return-on-investment Cober is generating.
He says: "I'm often asked if we hype up the potential returns of investing in web-to-print. However, the proof is in the pudding. E-commerce isn't going anywhere. B2B e-commerce in particular is forecast to grow by more than 18% by 2028.
"So I'm not surprised that Cober have been so successful in growing revenue and landing major new clients. Infigo are not a company that would sell a platform, then just leave the customer to get on with it.
"We act as genuine partners, supporting our clients with whatever they need to develop new print revenue streams and we couldn't be more pleased with what they've achieved so far.
"Cober has been in business for 100 years. I doubt I'll be around to see it but by partnering with Infigo we're helping them set the foundations for the next century. I can't wait to see the returns they generate using our platform over the coming years."
For more information, visit www.infigo.net.