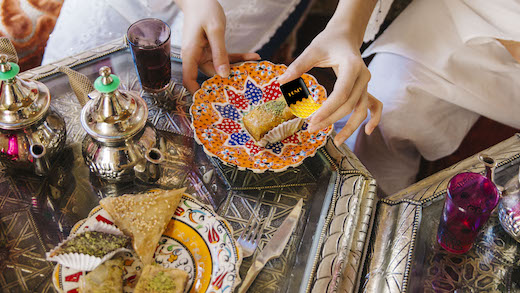 Based on its experience with the show in 2021, V-Shapes expects even better results with the 2022 edition
Bologna, Italy – V-Shapes, an innovative supplier of vertically integrated products and services for convenient, hygienic and sustainable single-dose packaging, today reported it will return to Dubai for the 2022 edition of Gulfood, scheduled for 13 to 17 February at the Dubai World Trade Centre. V-Shapes will be located in the Trade Centre Arena, Stand S-E12, with Tradenex. V-Shapes is also pleased to announce that it has engaged Karim Abdelazizz and Patricia Moreno, who will also be present on the stand, as exclusive agents in the region.
"We had such a positive experience at Gulfood 2021 that there was no question our attendance again in 2022 would be beneficial," said Christian Burattini, V-Shapes CEO. "Our unique single-dose packaging solution is ideal for high-end and food & beverage products. Brands, co-packers and converters looking for unique ways to package single units of condiments, dressing, honey and spreadable creams showed significant interest in our solutions; and we believe the interest level will be even greater this year, augmented by the availability of Karim, who is well-known in the region, as our exclusive agent. V-Shapes sachets can be opened with a single gesture using one hand, dispensing 99% of the sachet contents without messy spills."
At the show, V-Shapes will have available a wide variety of branded and filled sachets, including hand sanitizer sachets, for visitors to take back home with them to better share the value of this unique packaging approach with other stakeholders who may not be attending the show.
V-Shapes offers several different configurations of its vertically integrated packaging solution for production of filled and sealed single-dose sachets, including V-Shapes AlphaFlex which features integrated in-line printing into the V-Shapes six-lane ALPHA machine, enabling packaging converters/fillers to accomplish the complete manufacturing process of V-Shapes' unique single-dose sachets under one roof with a compact footprint, with full color branding available on both sides of the sachet, in line, on demand and with the industry's highest quality. In the AlphaFlex configuration, each printing module prints a single side of the single-dose sachets inline, synchronized with each other, and precisely married for die cutting, filling and sealing. Buffers are used to ensure alignment of printing speed with the manufacture of sachets by the Alpha six-lane machine.
To learn more about the AlphaFlex vertically integrated end-to-end solution for production and filling of single-dose sachets, and other products and services from V-Shapes, visit www.V-Shapes.com. For specific information about V-Shapes at Gulfood 2022, please visit www.v-shapes.com/events/v-shapes-at-gulfood-in-dubai.
Note to Journalists: To schedule an in-person interview before or during the show with Christian Burattini, CEO of V-Shapes, please contact [email protected].