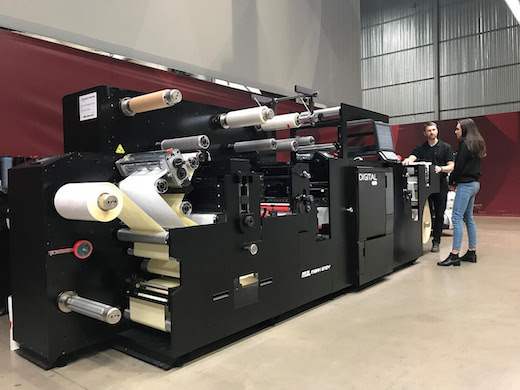 Michal Mokrzycki Mark Andy Senior Print Intructor with Julia Wojciechowska Student at the Mark Andy Digital Pro3
With engineering thesis tests using Mark Andy's Digital & Flexo Technology

For many years Mark Andy has been proud of its initiatives that support school pupils and university students in extending their technological knowledge. These include open houses, workshops, and competitions, like the Mark Andy Student Awards, as well as internal traineeships with the Company's Polish division. This year saw the launch of a new Mark Andy project that supported Julia Wojciechowska in the tests relating to her engineering qualification. It allowed Julia, who is a student of the Printing Technologies Unit, part of the Faculty of Production Engineering at Warsaw Technical University, to compare flexo and digital printing technology using Mark Andy presses.
"We were very delighted to help Julia with the preparation of her engineering thesis. The tests were conducted in cooperation with our partners: DuPont, Flexmar prepress studio, and Albi 2002, which uses Mark Andy presses," says Lena Chmielewska-Bontron, European Marketing Manager at Mark Andy. "We know that students are always looking for this type of opportunity, and as a manufacturer and vendor of printing equipment we are always open for such initiatives. We were also pleased to involve our partners in this project, DuPont who supplied us with flexo plates that were imaged by Flexmar Studio, and Albi 2002, who conducted the tests on one of its Mark Andy flexo presses."
Julia Wojciechowska explained that it is not easy for a student to find support of this kind as it involves time and financial commitment. "Mark Andy said 'yes' immediately when I asked them about this project – and they also invited other partners to get involved. I have received substantial support from Mark Andy, starting with the subject of my engineering thesis. Initially it covered a comparison of flexo with other printing technology, but it ended up including flexo and toner-based digital presses too. The research was very interesting for me, and Mark Andy's employees helped me with their knowledge, experience, and commitment at every stage of the project. I should like to take this opportunity to thank my promoter, Katarzyna Pilczynska, who helped me to contact Mark Andy. I also wish to thank Mark Andy and its partners who supported me in the whole research project."
Lena Chmielewska-Bontron adds: "For us it was also a new and interesting experience. We have been involved for many years in initiatives devoted to school and university students, so we were very keen to help Julia with her thesis. We will also use the results of her project in our daily work. I should also like to thank our partners for their support with this project."
Tomasz Nojszewski, Sales Manager NCE DuPont Image Solutions, says: "DuPont has supported numerous initiatives concerning education and knowledge development among school and university students. We do it either on a global or a local level. So, when we heard about a common project with Mark Andy, it was quite natural to take part in it. We supplied Cyrel EASY ESX flexo plates as our material support. Based on a flat dot technology, they guarantee the highest printing quality. We have cooperated with Mark Andy for many years and previously took part in open houses and workshops organised by the company. This was a good opportunity for us to present the newest trends on flexo plate market. Another important activity is our more than 10-year cooperation with the Printing Technologies Unit at the Faculty of Production Engineering at Warsaw Technical University. We have equipped one of its labs with a UVA/UVC exposure unit as well as processor for dry plate finishing in Cyrel FAST technology. We also set up numerous lectures by DuPont representatives for the students. Backed by 50 years of experience in flexo plate development, DuPont is very keen to share its knowledge, both with our customers and with students. Supporting Julia's project was one of the best examples of our approach."
Marek Biedrzycki, owner of Flexmar prepress studio, says: "Since we support many different education-oriented actions, we were pleased to prepare and deliver photopolymers for the project. Earlier, we also organised practice sessions for students in our prepress studio. When Mark Andy asked us about support for Julia, we agreed immediately. We checked the jobs she prepared and made the photopolymers to print them. It was similar to our daily work where we support customers at every step of prepress process, prior to printing on a flexo press."

The need to compare toner-based digital and flexo technology meant that the jobs had to be printed in two places. The digital work was carried out in the Warsaw-based Mark Andy demo room, equipped with a Digital Pro3 toner-based press. The flexo part was printed by Albi 2002 – the Warsaw label printer and user of two Mark Andy Performance Series P5 flexo presses, one of which was used for the test. Robert Cabaj, the owner of Albi 2002, says: "Our long-term experience with the modern technology we use, and a highly equipped machine park enables us to print the highest quality. So, we were very pleased to take part in this project and support Julia in her engineering thesis. We are always very open for this kind of education-oriented initiative, both now and in the future."