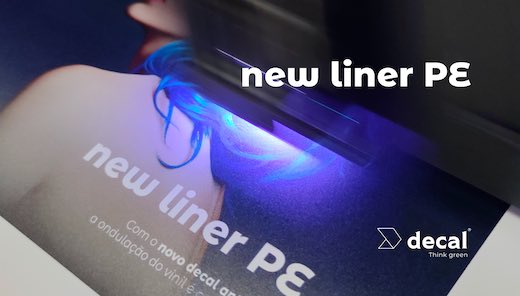 Efficiency improved in all decal printing products with ant humidity protection of the PE liner. This authentic innovation in monomeric vinyl undeniably increases the advantages of polymeric vinyl and the PVC FREE decal range.
Decal eliminates the problem of humidity-induced curling in all vinyl for printing with the Monomeric Vinyl, Polymeric Vinyl, and PVC Free ranges.
Innovation in monomeric vinyl, making the decal Monomeric Vinyl range unique on the market, ensuring print for short-term promotional applications without humidity.
This novelty also increases the quality of applications with polymeric vinyl of the decal Polymeric Vinyl range, used in longer institutional and commercial campaigns with more detail.
The immediate result of eliminating curling is printing without altered colors, stains, streaks, or spots, and reduced wear of the print heads as they do not hit the vinyl.
Protection with the PE liner also reduces consumable waste (vinyl and paints) during job preparation and between prints with the same roll. It is a benefit in the case of PVC Free products, making this ecological range of decal (even) more sustainable.
Billboards, mupis, stands, signage, storefronts, car fleets, restaurant decoration, offices, and other spaces... Decal has solutions for these and many other indoor and outdoor applications. Interested parties can register on the site and ask for free samples (link).