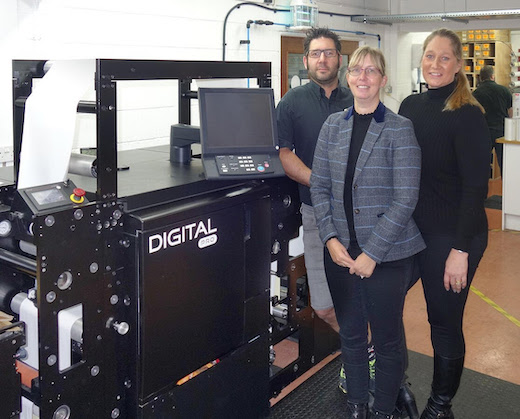 Steve and Jo Craig with Nikki Gordon and the new Mark Andy Digital Pro 3 at Craig & Parsons' HQ in Folkestone
Family-owned label converter Craig & Parsons reports a record year and adds a second Mark Andy digital press to increase capacity at its production facility in Kent
Originally set up in 1945, and now under third generation management, Craig & Parsons has built a successful business as a trade supplier in its hometown of Folkestone on the Kent coast. Specialising in short run work with a variety of flexo presses, the company supplies many household names through its print management contacts.

But it was the installation of a Mark Andy Digital One press at the end of 2017 that provided the impetus to grow the business to a new level. Co-owner Nikki Gordon explained: "We've always prided ourselves on the quality of our work and service from the design stage through to delivery. In today's competitive marketplace that translates into an ongoing commitment to invest in the latest technology."

Following the acquisition of another label converter in 2015, Craig & Parsons began the search for a digital press that offered high quality print and flexible capacity. They found it with the Mark Andy Digital One, a dry toner-based solution that offered CMYK printing with a flexo print station and inline converting. "The fact that it could print a white or a varnish and offered cold-foil and laminating with a die unit that accepted the tooling from our Mark Andy flexo press made it the perfect fit for our customer portfolio," she added.

Almost four years on, the Digital One has passed the 1.2 million metre mark and continues to perform well. So well in fact that the company took the decision to add a second machine at the beginning of 2021 to boost its digital capability. The second-generation Mark Andy, now rebranded Digital Pro, is an uprated model in terms of performance and capability but retains the basic principles that makes the Digital One such a productive tool at Craig & Parsons.

Speaking for Mark Andy, UK Sales Manager Phil Baldwin commented: "The Digital Pro is capable of printing 1200dpi at 23m/min and has a simple and easy to use RIP that allows you to print a pdf at the touch of a button. It has a broad substrate range and does not require inline priming, which saves time and money, and It has no clean room requirement to perform at its best." Depending on how it's configured the Digital Pro can operate on a single-phase electrical supply, but Craig & Parsons' model has the new semi-rotary die station that needs 3-phase power. "Either way, there is no click charge, so it's economical to run," he said.

"The new press has a re-register capability that allows us to offer peel and reveal labels and run pre-printed rolls to add variable data. To be able to add consecutive barcodes has been especially useful for the vast quantities of Covid test packs that are currently in demand," she added. The company now has six flexo presses along with the two Mark Andy digital lines, which Nikki estimates constitute around 20% of total business by value.

Described as: "brilliant bits of kit for what they do," the Digital One and Digital Pro presses are also very easy to use, with two operators covering both machines, and a third dedicated to digital pre-press. Currently, most jobs going through the factory are printed with a flexo white, then digital CMYK and followed by cold foil application. Only slitting is not carried out online. "We base our prices on a typical run length of 500 metres, but some variable data work runs to 8,000 metres or more," she explained.

With the number of SKUs increasing as run lengths decline, label converters are having to become more nimble in their approach. Along with the growth of small retailers and artisan producers, this plays into the hands of Craig & Parsons with its flexo and digital capacity. Now BRC 6 registered and AA rated since 2019, the company is optimistic about its future. Plans are well founded for a new press for label sheets, an upgrade programme for its existing narrow web flexo stable and a new materials store to free-up space in the tightly packed production area.

"We now employ 27, five of whom have joined us this year and we will generate around £3.5m sales in 2021. This is a 40% growth year on year – and all on single-shift working," she pointed out. With daily enquiries for more environmentally friendly labelling solutions, Nikki Gordon is conscious of a market demand that is ever changing. "We're always happy to quote bio-degradable or compostable options, but they currently come with a massive price penalty that the market won't accept – it's not an easy problem to solve, but it's one that won't go away!" she concluded.