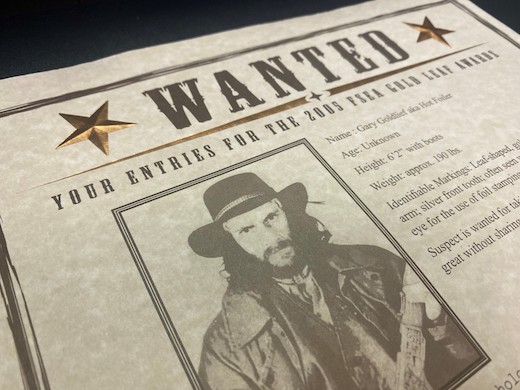 FSEA 29th Annual Gold Leaf Awards Competition
Entries Due March 15, 2022
Topeka, Kansas -- The Foil & Specialty Effects Association (FSEA) has opened the 29th Annual FSEA Gold Leaf Awards Competition by issuing a "Wanted" poster in a throwback nod to the 2005 competition, when print specialty pieces that were "stealing the limelight" and "guilty of growing existing markets" were rounded up for recognition!
For city slickers not used to the ways of the Wild West: The FSEA invites companies in the finishing, printing, folding carton, greeting card, packaging and binding industries to submit their best work.
"We all can use a little fun these days, so when our team ran across the 2005 'Wanted' poster, we decided it was the perfect time to revisit the Old West," said FSEA Executive Director Jeff Peterson. "Industry members are embellishing greeting cards, folders, labels, invitations, folding cartons, packaging containers, books and all other forms of printed products. The Gold Leaf Awards gives them the opportunity to earn recognition for the intricate, specialized work their staff is performing."
The FSEA Gold Leaf Awards program has grown as entries are submitted from around the world by printers, finishers and binders that want to compete against the best in the industry with foil, coatings, diecuts, folds, embossed images and more. New technologies have fueled growth, too, with expanded award categories in areas such as digital foil and specialty UV coatings. Entries are judged on design, execution and level of difficulty in more than 30 categories, with a gold, silver and bronze award presented in each. A "Best of Show" award will be selected from among all of the Gold Award winners.
All winning companies will be announced at Amplify, The Print Finishing and Embellishment Event, to be held June 14-16 in Minneapolis, Minnesota. Competition winners also will be highlighted in promotional campaigns, PostPress magazine and other trade publications, and on the FSEA website.
To submit entries or for complete information on rules, regulations and entry fees, download an entry form from the FSEA website at www.fsea.com. Questions? Call the FSEA at 785.271.5816.