Understanding health and safety requirements is a key to tap into this lucrative market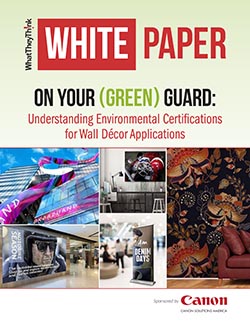 One of the hottest growth markets for digitally printed display graphics has been wallcoverings and décor, especially "environmental graphics" for offices, healthcare facilities, schools, etc. As we recover from the pandemic, and offices and other locations reopen, décor will only become more important. Print service providers looking to tap into this market must understand environmental issues—not just overall sustainability but health and safety requirements for materials used in décor. To that end, various classification and certification programs have emerged to confirm not only the "greenness" of the assorted components of print production processes but also their compliance with health and safety requirements and regulations. But what do these certifications mean? Who confers them, and are they certifying truly sustainable materials?
A new white paper, "On Your (Green) Guard: Understanding Environmental Certifications for Wall Décor Applications," sponsored by Canon Solutions America, sorts out the details of the various programs that have certified the consumables used for wallcoverings and décor, with an emphasis on the materials used by the Canon Colorado Printer Series, a rollfed wide-format family that has proven ideal for wallcovering and décor printing.
In this white paper, you'll learn:
What are the specific consumables and other materials used for wallcoverings and décor?
What are the important certifying organizations and programs for wallcoverings and décor materials?
What health and safety issues are involved in wallcoverings and décor, and what do print service providers need to know about them? How does this knowledge give you a competitive edge in tapping into these markets?
How is the Canon Colorado Printer Series well-suited for décor applications, and with what certifications do its consumables comply?
Download the white paper here.
About Canon Solutions America, Inc.
Canon Solutions America, Inc. provides industry leading enterprise, production, and large format printing solutions, supported by exceptional professional service offerings. Canon Solutions America, Inc. helps companies of all sizes discover ways to improve sustainability, increase efficiency, and control costs in conjunction with high volume, continuous feed, digital and traditional printing, and document management solutions. A wholly owned subsidiary of Canon U.S.A., Inc., Canon Solutions America, Inc. is headquartered in Melville, NY and has sales and service locations across the U.S. For more information on Canon Solutions America, please visit csa.canon.com.
About WhatTheyThink
WhatTheyThink is the printing and publishing industry's leading media organization, offering a wide range of publications that deliver unbiased, real-time market intelligence, industry news, economic and trend analysis, peer-to-peer communication, and special reports on emerging technology and critical events. Special interest sections include Economics, Wide-Format & Signage, Labels & Packaging, Software, Print Finishing, Textiles, and Industrial Print. WhatTheyThink hosts webinars and live events as well as providing content through a syndication program, delivering content directly to related websites. In addition, WhatTheyThink offers a wide range of lead generation and branding programs that help print- and publishing-related companies achieve business growth. For more information about partnering with WhatTheyThink, contact Eric Vessels at [email protected], Kelley Holmes at [email protected], or Stephanie Papp at [email protected].