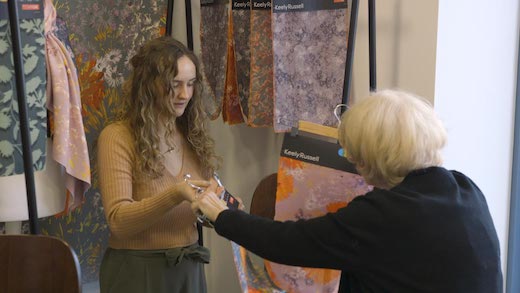 Internationally respected design-writer, founder of Green Grads, and well-known champion of young talent reviews graduates' work and imparts vCIRL Press Release OPEN DAY FInal approved-2aluable career advice
CMYUK, Shrewsbury: Barbara Chandler best-selling photographer, known for her long-running design columns in the London Evening Standard, recipient of a Homes & Gardens Lifetime Achievement Award and contributor to numerous newspapers and magazines visited the Creatives in Residence Live (CIRL) initiative at CMYUK's demonstration and training facility in Shrewsbury.
Barbara was attending the first CIRL Open Day marking the first part of the graduates' journey on this programme. Members of the press, mentors and sponsors were able to view their work and speak to the graduates about their experiences so far.
Barbara who has been a high-profile influencer in the UK design world for four decades spoke to the CIRL graduates individually, exploring their work, imparting useful advice, sharing their stories, and taking photographs of their work.
"New talent and particularly new graduates are my passion," said Barbara. "They are the very lifeblood of our industry and, of course, make marvellous stories for the media. Unquestionably the UK leads the world in excellence of surface pattern thanks to the backbone of our old-established art colleges. So, it was a treat to have new talent and surface pattern combined on my so-worthwhile awayday in Shrewsbury. Increasingly, what impresses me about new grads is their professionalism: their willingness to tackle any brief, to put in many extra hours, and to deliver well-presented projects underpinned by excellent research. all wrapped in an endearing envelope of enthusiasm, Evie, Keely and Sarah did not disappoint, and I was intrigued to see their different takes on their first 'florals' brief. In a time of cutbacks and COVID, I congratulate Robin East of CMYUK and Debbie McKeegan of Texintel on this brilliant Creatives in Residence programme, nurtured by cutting-edge technology."
Barbara added that her main wish was that sharing her experience and expertise would be useful to further the graduates' ambitions.
"It was really exciting to meet Barbara at the demo centre, she has championed so many other emerging and graduate designers through her career and so it was really fantastic to have her photograph and discuss our work. It was also a great opportunity to hear about her involvement with the Green Grads initiative first hand, which is such an important focal point for graduates within the design industry currently," said CIRL graduate Keely Russell.
"It was interesting to chat with Barbara Chandler about photography and to get an insight to her experience and knowledge, with her being such a prolific member of the industry," said Taylor Doggett. CIRL graduate, responsible for capturing the project on video and sharing it on various social media platforms.
CIRL mentor Avalana of Avalana Designs was also in attendance. She reviewed the graduates' designs, gave a talk about her own experience of working in the digital textile industry and how she went on to establish her own successful brand.
"It was lovely to meet the graduates at the CMYUK Creatives in Residence press event. I really enjoyed sharing my experiences with them about designing in various creative industries, and to share my story about how I then started my own design brand. We held a Q&A afterwards where the graduates could ask me any questions they had. I was once in their shoes and I hope my experiences and obtained insights help them
in some way to gain a clearer idea on how to make next steps in the design industry," said Avalana.
Speaking about the mentor session with Avalana, Evie Venables CIRL graduate said, "Avalana gave us great advice about connecting with like-minded people and getting yourself out there. It was inspiring to hear how she quit her full-time job to set up her own business starting with just a set of watercolours and an Instagram account. It gave us an exciting glimpse of where we could be in the future."
The Open Day also gave two of the CIRL headline sponsors, Canon and Epson, a chance to meet up with the graduates, discuss their work and their learning journey so far.
Derek Joys, Product Business Development Manager, Canon UK & Ireland said, "We're very proud to be supporting this initiative, which offers a helping hand to young people as they move from education into the workplace. This is a very talented group. I am impressed with their designs and the professional standard of work. It is clear that these graduates are learning a huge amount about the industry and the different design stages - from idea creation through to final product delivery."
Phil McMullin, Epson Head of Sales Commercial and Industrial Printing said, "The graduates that CMYUK have on the CIRL programme are incredibly creative and enthusiastic, being associated with that is a really positive thing. Epson has a big commitment to its Corporate Social Responsibility Programme and part of that is how do we promote talent in the print industry? At trade print shows there is a heavy preponderance towards the older generation, and we wonder where the younger generation is going to come from; how do you inspire young people to get into print? We work with lots of schools and universities and the CIRL initiative really fits into our desire to work with the younger generation and present them with opportunities."
After spending time speaking with the sponsors, Sarah Willcocks CIRL graduate said,
"I really enjoyed meeting Derek from Canon and Phil from Epson; their print technology has been invaluable for our projects. The fact we can do décor and fashion collections all in one place and very efficiently has meant we can develop projects over the course of a day as opposed to a month. Learning about the technology and how to use it has been a real highlight."
Robin East, CMYUK Group Sales & Marketing Director said, "We are delighted that Barbara, Avalana and some of our headline sponsors were able to take time out of their hectic schedules to meet our interns and visit our facility in Shrewsbury. These graduates are gaining so much experience and being given invaluable advice, which will only benefit them as they move forward with their careers."