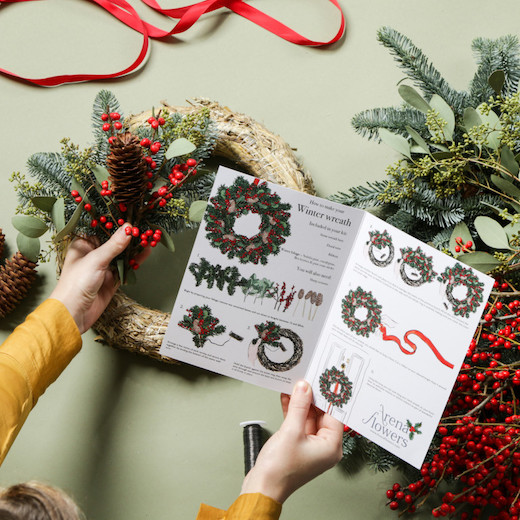 UK's most ethical florist automates gift card insertion and sorting process with new Kern system

Arena Flowers delivers more than 2 million bouquets of fresh flowers every year and is known as the UK's most ethical florist. Its flowers are sourced from ethical suppliers and Fairtrade-certified farms, earning it a perfect 100 score in 2018, 2019 and 2020 on the Ethical Company Index. With every order arranged and hand-tied by one of its florists to create a unique bouquet, each customer is treated as an individual and this level of customer service lies at the heart of everything the company does.
New methods of automation
Arena Flowers wanted to find a way to automate the labour-intensive card inserting, sorting, addressing and courier label creation process, to increase capacity – particularly around the huge spike in orders created by Mother's Day and Valentine's Day. Customers are allowed to create highly customised orders – something Arena has become known for – by adding other products to their bouquet selection such as wine, beauty products or confectionery. A personalised greetings card with a message inside is also part of the product offering, all delivered nationwide within 24 hours.

This highly personalised and complex process is made even more pressured as consumers buy gifts for Mother's Day and Valentine's Day at the last minute, resulting in a significant volume of orders during the last few days and final hours leading up to each event. Arena Flowers decided to invest in new methods of automation to build capacity for today but also to cope with increasing demand over the next 5-10 years, as John Hackett, CEO of Arena Flowers explained.

"We wanted to reduce the reliance on manual labour involved in inserting cards into envelopes, scanning bar codes, creating address labels and the subsequent sorting into batches, according to date, courier, product type and gift add-ons. We needed to find a way to introduce new levels of automation so looked at other industries to see what we could learn. A critical factor was that a new system would not compromise our personalised offer and be able to handle 15,000 orders per hour at peak times. High-speed mail and sortation technologies were an obvious solution and Kern's in-depth approach impressed us the most. The determination of the team to understand our challenge and then tailor a system to future-proof our operations was impressive."

ROI achieved within three years, 46 staff re-deployed

Arena Flowers chose a bespoke mail inserting and sorting solution from Kern, a highly complex system involving an inserter machine to place greetings cards in envelopes and a sortation machine with barcode readers to sort cards into different batches and be matched with the correct bouquet of flowers. Going live just in time for Mother's Day, the new system meant 46 members of staff could be re-deployed elsewhere in the business, representing a huge saving in labour costs on the sorting, batching and mailing process. The result being that the solution will pay for itself within three years.
Capacity increased by 300%
"The new solution had to increase efficiency and capacity and that's exactly what Kern delivered," commented Hackett. "The bottleneck in the business was the speed of the gift card process – how long it took to insert, batch and then match them to individual bouquets. Previously, we could achieve 4,000-5,000 orders an hour but not for any sustained period without elevating the risk of human error and mispicks. The new system has increased this capacity by 300% but can also maintain it comfortably for hours on end. Now we have the confidence to cope with large spikes in orders and can easily handle 125,000 orders a day – incredibly rare for this type of precise and highly customised product offering. This confidence is also invaluable when we engage with new business partners, to add more products to our offering."

Another challenge the new solution helped solve was an operational one. Unlike many of its competitors, Arena Flowers did not want an enclosed document wallet on the outside of each flower box, containing the recipient's address along with a courier bar code and personal message. "We didn't feel this is what our customers wanted, as it doesn't convey a message in a way that complements the flowers, usually to celebrate a special occasion," explained Hackett. "The new method not only attaches an ID barcode to a highly personalised card, creates a courier label and sorts these into batches to accompany the correct bouquet but does it at incredibly high volumes with zero errors."
Giving customers a valued product
The main benefit of the new system is being able to manage the precision required, at high volume and high speeds, as Hackett concluded: "Arena Flowers is rare in that we combine an incredibly complex gift offering with personalisation in a very short timeframe, to give customers a product they value. To achieve this with confidence and security, you need exacting technology solutions and this is what Kern specialise in. Throughout the periods of pandemic lockdown we experienced a 20-fold increase in year-on-year volume. Without the new solution in place this would simply have been unsustainable."
For more information:
https://www.arenaflowers.com