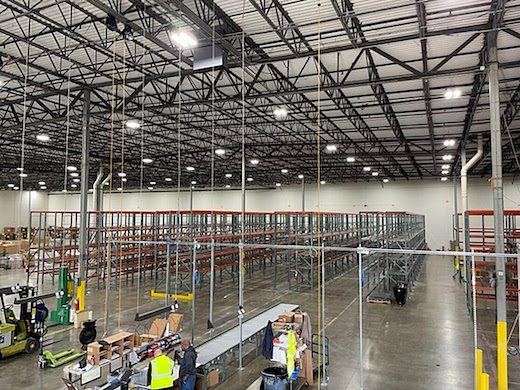 The new Mark Andy Print Products Lean Warehouse
St. Louis, Missouri – Mark Andy Print Products, the supplies and consumables division for Mark Andy Inc., is pleased to announce its relocation from Des Plaines, Illinois, to 4301 Rider Trail North, Suite 500, Earth City, Missouri, U.S.

The move is part of a long-term strategy to be closer to Mark Andy's global headquarters, located in Chesterfield, Missouri, and in a central location that facilitates logistics and supply chain management, while meeting customers' and vendors' needs for efficient operations and quick response shipping. "There are many benefits of relocating to St. Louis, such as the synergies of sharing resources with Mark Andy headquarters, located just fifteen minutes away," says Dave Telken, Vice-President Mark Andy Print Products. "In addition, we are now in a central location that can reach out customers faster. We can ship to South Texas, the East Coast, and Denver in two days."

However, according to Telken, "the most significant advantage is that Mark Andy Print Products now benefits from a lean warehouse design. In an effort to continue to offer our customers the most competitive pricing in the market, we must control and minimize our operating costs. We chose to implement lean principles to help us minimize operational costs that will be reflected in the final price to our customers."

The journey started one year ago when Mark Andy Print Products hired experts specializing in lean warehouse management, explained Telken. "Together, we analyzed all warehouse processes. This included spaghetti mapping the warehouse process flow (receiving, putaway, pick, pack and ship), documenting every process, reviewing all sales transactions to understand the velocity of each product offering, and measuring over 40,000 different products to understand all the dimensional variations. Once we collected this data, we had a clear picture of how we could reduce inefficiencies while maximizing labor productivity and capacity. Then, we planned the physical product relocation from Des Plaines to the new lean warehouse in Earth City without disrupting our customers."
Mark Andy Print Products' new warehouse is designed with future growth in mind. The building is 66,000 square feet and strategically located in Earth City, Missouri, which is the main distribution corridor in the St. Louis area. "Our next-door neighbor is UPS, and this is a modern state-of-the-art building with LED lighting, open floor plan with minimal columns, ten dock doors, seismic-rated racking, and thirty-three feet tall ceilings that allow maximum storage with minimal floor space square footage," notes Telken.

The upgraded facility not only optimizes Mark Andy Print Products' capacity to meet the growing demand for printing supplies and consumables but also allows the company to better serve current stakeholders. "We are very excited that our Lean warehouse will allow us to operate with maximum efficiency and velocity of product flowing in and out of the building," concludes Telken.
For more information, visit www.markandy.com.