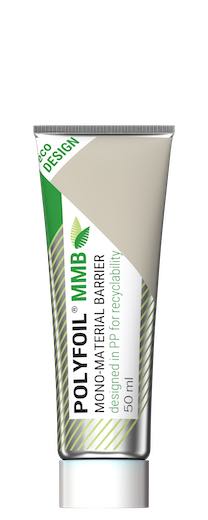 Company's groundbreaking mono-material barrier tube becomes first tube/cap combination successfully tested by EU-based cross-industry initiative, which promotes increased recycling and plastics circularity.
Oberdiessbach, Switzerland – Hoffmann Neopac, a global provider of high-quality packaging for pharma, beauty and oral care, has been granted RecyClass approval for its Polyfoil® MMB mono-material barrier tube, a groundbreaking combination of product protection, user friendliness and appealing aesthetics.
RecyClass – a Europe-based cross-industry initiative that works to advance plastic packaging recyclability and establish harmonized approaches toward recycled content – tested and granted approval for the innovative new tube, which comprises a metallized PP-barrier compliant for food, cosmetic, dental and pharmaceutical applications. The analysis was carried out by IKTR, per the RecyClass Recyclability Evaluation Protocol for PP containers, and its approval marks the first PP tube/cap combination successfully tested by RecyClass.
Neopac's Polyfoil® MMB tubes can reduce packaging carbon footprints by up to 38% compared with traditional laminated tubes. The tube body is made possible through a first-of-its-kind adhesive laminated process – a contrast to the existing blown film and extruded film solutions recently adopted by big oral care brands. The advantage: advanced barrier and aesthetic options in the tube body. The tube's shoulder and cap are made with low MFI HDPE and just 2% of foreign material.
According to the laboratory results, the 'Polyfoil® MMB Tube PF528' product conforms to the current European PP container recycling stream, provided it is used under specific conditions. The tests demonstrated that plastic generated by its recycling can be repurposed in high-end or closed-loop applications as PP blow-molded bottles with up to 25% of this material. In addition, the materials' sorting behavior was assessed by Suez.Circpack® according to the RecyClass Sorting Evaluation Protocol, demonstrating that the metallized tube is sortable within the PP rigid stream.
Owed to Neopac's advancements in materials science, Polyfoil® MMB accomplishes these goals while maintaining the attractive printing and decorative options for which Neopac's conventional Polyfoil® tubes are known. The solution is available with a non-compromising metallized look and, when combined with Neopac's HDPE screw and hinge closures, comes come fully ready for recycling in PE rigid streams.
For RecyClass, the testing of Neopac's Polyfoil® MMB exemplifies the plastic industry's efforts to develop high-end PP barrier tubes compatible with dedicated recycling streams. The proliferation of new technologies and products for packaging in various sectors – including pharma, whose patient-first concerns can present materials sustainability challenges – that align with enhanced recycling principles shows strong commitment from value chain actors, contributing to an increase in the EU's overall recycling targets and furthering the goal of reaching plastics circularity.
The first series of Polyfoil® MMB tubes will be available starting in January 2022, with pharmaceutical customers already performing stability tests.