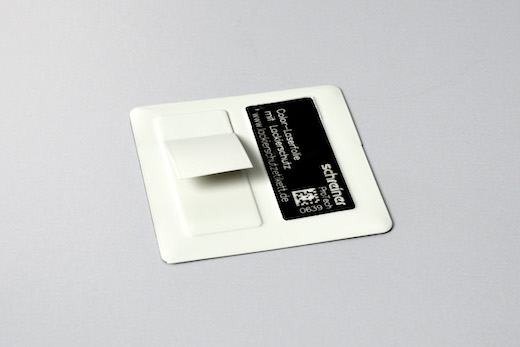 Incorporated by drive-technology components company Steinlen Elektromaschinenbau GmbH, new solution allows for through-the-mask marking, meaning labels can be applied first and differentiated later.
Blauvelt, NY – Schreiner ProTech, a Germany-based global leader in developing and manufacturing innovative functional labels with value-added benefits for the automotive and engineering-based industries, has developed a Color Laser Film version of its paint masked label components marking solution. The next-generation marking solution allows companies who manufacturer, repair or maintain engineering components to apply nameplates to products prior to painting and, afterwards, incorporate additional, customizable markings via laser printing.
In mechanical engineering applications, many permanently marked components require a protective coating that can stand up to the rigors of initial production and subsequent maintenance and repair. Such labels are frequently subjected to adverse ambient conditions in all phases of a component's lifecycle, making add-ons like paint masking valuable to ensure long-term marking legibility.
Hanover-based Steinlen Elektromaschinenbau GmbH specializes in the manufacturing, maintenance and repair of drive-technology components – especially gear motors – that receive their critical protective coating in a modern painting center. Importantly, the company wanted to begin applying individual item nameplates prior to their departure for the paint center, a benefit that would bring heightened production clarity and trackability.
Of course, applying the nameplate prior to painting required legibility protection. In addition, the label's adhesive needed to remain unfailingly fastened to a cast component with a rough surface. Finally, the company's eclectic components capabilities meant it handled a broad array of items with differently-sized labels, adding another layer of complexity.
Schreiner ProTech's solution comprised laser-markable labels with integrated paint masks, which enabled permanent pre-painting marking while ensuring reliable identification even on rough substrates. Due to the specific product features of Color Laser Film, the inscription can be performed through the paint mask, which circumvents the need for post-marking paint mask application. After the painting process, the paint mask is peeled off by means of a starter tab, revealing the nameplate again.
With the Color Laser Film including a paint mask and corresponding laser marking system from Schreiner ProTech, all requirements were satisfactorily met in an automated process. As a result, Steinlen can now cut and inscribe nameplates specifically for any customer order.