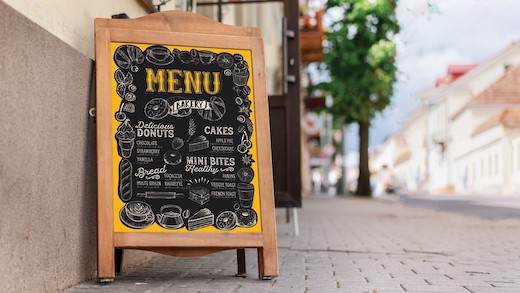 KIMBERLY, WI – Nekoosa recently revamped their ChalkTalk® pressure sensitive chalkboard vinyl. ChalkTalk® is constructed with a 5 mil textured matte black chalkboard vinyl facestock, high-peel removable adhesive and a 90# polycoated paper liner. ChalkTalk® is suitable for indoor and outdoor applications, and can be written on with chalk or chalk ink pens.
ChalkTalk® chalkboard vinyl is most commonly used for chalkboard wall paper, retail promotional displays, restaurant menu boards, point-of-purchase wall signage, trade show and event graphics, seasonal promotional signage and grocery store displays.
The high-peel removable adhesive allows for application to a broader range of surfaces like wood paneling, polishing stone, stainless steel, smooth painted walls, textured painted walls, low-to-no VOC painted walls, concrete and painted plywood.
ChalkTalk® is offered through Nekoosa distribution partners worldwide, and available in 24"x75 ft. and 54"x75 ft. wide format rolls.
ChalkTalk® is the most recent addition to the Nekoosa wide format specialty print media portfolio. Their wide format offering includes pressure sensitive films, overlaminates and mounting films used to produce window, wall and floor graphics and general use signage.
For more information on ChalkTalk®, visit their website at www.nekoosa.com.