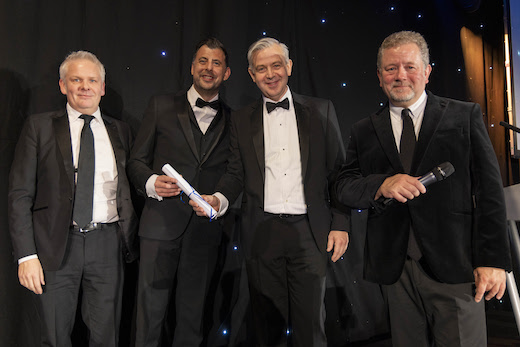 Esko has received a Silver Award at this week's FIAUK Awards for its print inspection innovation, AVT iCenter, which empowers label converters to easily manage quality and production standards across jobs, printing equipment, shifts and even sites.

Esko received the honor in the Technical Innovation - Supplier category for its unique cloud-based platform that integrates with Esko Automation Engine and Esko AVT Helios automated inline inspection solutions for label and narrow web printing, launched worldwide in April this year.

AVT iCenter from Esko, the leading developer of integrated software and hardware solutions for global packaging and labeling customers, is the connection between prepress and inspection. It enables users to control and deliver one standardized source of truth throughout the quality inspection setup process.
"We're thrilled to have been recognized by the judges in this hugely competitive category," said Yael Cooper, Esko AVT Label Marketing Director. "The FIAUK awards are renowned for acknowledging outstanding commitment to the flexographic print process and we're delighted that Esko AVT iCenter been recognized and praised for its ability to simplify the inspection job setup process and ensure quality and consistency."

With increasingly shorter job run lengths and lead times, today's label suppliers face significant challenges. These are compounded by the constraints of siloed software applications and duplicating data between the prepress, inspection and production process. With AVT iCenter, quality and production standards are easily managed by converters, not only across jobs but also across different equipment, personnel working different shifts and even in a different factory location. The unique cloud-based platform integrates with Esko Automation Engine and Esko AVT Helios automated inline inspection solutions for label and narrow web printing.

"The inspection job setup process is manual and fragmented, leading to significant lost time in setting up the right quality level for each job before print, then waiting for supervisors to approve them," said Yael. "At the same time, the manual process makes it challenging to control quality on the same jobs across various different operators and systems, while inaccurate or non-specific quality inspection setup can dramatically affect production speed.

"With Esko AVT iCenter, inspection quality standards are defined only once, then leveraged automatically to every live job, making standards - and products - consistent. 100% digitized on-press operation eliminates human error, while inspection make-ready is automated, based on machine learning and AI-based analysis," she said. "Multi-site operations are supported, ensuring consistency regardless of which facility completes the job. Operators simply type a job name or scan a barcode and iCenter retrieves and applies all standards for the job – with the entire process taking just 20-30 seconds to complete."
To find out more about AVT iCenter from Esko, please visit www.esko.com/en/products/print-inspection/workflow-automation/icenter.